What to Know
New York City students in grades 8-12 will now have to wait until Oct. 1 to start their in-person classes; those in K-5 and K-8 schools will delay a week
42% of NYC students have opted for all-remote; that number has climbed 15 percentage points in two weeks and the city is now saying it doesn't have enough staff to give all remote kids "live" or "synchronous" instruction
Mayor Bill de Blasio announced Thursday he would add another 2,500 educators on top of the 2,000 extra he already pledged to deploy; that still falls 5,500 short of the 10,000 unions said they'd need to do the job
Mayor Bill de Blasio announced Thursday he will delay the start of in-person school in New York City for grades 8-12 until October, bowing to pressure from unions and parents concerned about staffing shortages and other issues. The start of school for K-5 and K-8 schools will also be delayed, but by about a week.
Rather than have all public school students who opted for in-person learning to begin that Monday as scheduled, the mayor says the city will now adopt a phased approach to bring children back to the physical classroom.
Students in 3-K, pre-K and District 75, which serves special needs students, will start in-person classes on Monday as scheduled. Those in K-5 and K-8 schools will push their in-person start date to Sept. 29, while the start date for students in middle and high schools will now be Oct. 1. Remote instruction will begin citywide Monday for those whose in-person starts have been delayed.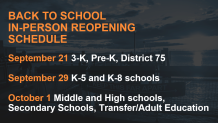 De Blasio said the last-minute changes stemmed from ongoing conversations over the last month that culminated in lengthy talks Wednesday and, ultimately, the decision to stagger the in-person return. Different schools have different levels of readiness and he acknowledged "my colleagues raised real concerns."
"They acknowledged progress has been made but more had to be done to make sure that things would be as strong as they needed to be," de Blasio said. "Nothing replaces in-person learning. We believed from day 1 we could ensure health and safety first but also ensure the best quality education. Everyone here at this table has devoted a lot of our lives to proving the power of public education to uplift every young person, knowing they will be our future. It has to be fair and equal."
According to some educators and parents, it hasn't been either fair or equal for many students. Schools in certain neighborhoods have had lingering ventilation problems. One Brooklyn school didn't have WiFi when it tried to start its remote orientation Wednesday. The same day, a parent said her child's classroom was hacked and someone streamed pornography in the Google Meet call.
Asked about that specific incident Thursday, de Blasio said he hadn't heard of it but was "troubled" by it. Schools Chancellor Richard Carranza said the matter was under investigation. There's no evidence of an external attack, he said, but it appears someone within that school "decided not to play by the rules."
A day earlier, besieged by questions about known issues, de Blasio and Carranza acknowledged it would be an imperfect start to this school year as it is with all school years, to varying degrees. This year, of course, is unprecedented.
Complaints Day 1 ranged from technological to personnel-related, with the city admitting -- in contrast to its weeks-long promise -- that it doesn't have sufficient teachers to ensure all remote students have live instruction all the time. Forty-two percent of NYC families have now opted for all-remote, up 15 percentage points in the last two weeks. That still leaves more than a half-million students who chose to start with the hybrid learning model.
Daily Percentage of Positive Tests by New York Region
Gov. Andrew Cuomo breaks the state into 10 regions for testing purposes and tracks positivity rates to identify potential hotspots. Here's the latest tracking data by region and for the five boroughs. For the latest county-level results statewide, click here
Source: ny.gov
De Blasio said Thursday he would add an additional 2,500 educators on top of the 2,000 additional ones he already said he would deploy across the public school system. In total, that provides an extra 4,500 staffers, which still falls 5,500 short of the 10,000 teachers and principals unions said they would need to do the job.
It's not clear the extra few thousand staffers will accommodate the city's previous pledge to give live remote instruction to all students, but as of Wednesday, schools were still struggling to fill extensive teacher gaps for in-person learning.
De Blasio said it will be a process and adjustments will be made along the way.
"This is a number that gives us what we believe we need to get started," he said.
"We're going to keep making improvements as we go along, we're going to keep adjusting and figuring out what we need in terms of staffing," he added. "It's not like what happens on the first day – by the way, this is true in a typical school year – what happens the first day is not the same as how things are two weeks or three weeks or four weeks later after a lot of things have been worked through."
Carranza said Thursday the newly announced changes give the city the best chance to have "the strongest possible start to the most unconventional school year that any of us have experienced."
The president of the city's largest teachers' union, Michael Mulgrew, credited the de Blasio administration with agreeing to yet another delay.
"This is an unprecedented challenge. Most people would try to run away and find a way out for not dealing with this responsibility," Mulgrew said. "We need to step back. We need to figure out a couple things. We've seen over the last 10 days there are some blanks we have to fill in and we're going to do that."
Mulgrew stressed the modifications announced Thursday were not an admission that the current back-to-school plan could not work; instead, he said, they were implemented in an effort to ensure that existing back-to-school plan will work -- for all students, teachers, staff and families.
Educators and union reps have cited issues for months: There's a PPE shortage. School buildings lack ventilation. There's not enough staff. Testing and contact tracing isn't happening fast enough.
Groups of educators marched from one school with ventilation problems to another Wednesday. Another group of parents and teachers protested outside Hunter College, concerning about CUNY-run K-12 schools and COVID testing plans. They also complained about classrooms without windows. And the protests are expected to continue in parts of the five boroughs on Thursday.
At least 56 city schools have had one or more confirmed cases of COVID-19 among staff, the city's Department of Education announced Tuesday. Click here to see the full list of affected schools.
The city's Independent Budget Office estimates that reopening public schools in a pandemic environment and complying with the necessary guidelines would cost an additional $32 million a week.
The Department of Education later issued a response to those findings, saying in a statement, "The mayor has been clear that the safe reopening of city schools is a budget priority and we will have the resources needed to ensure all students are healthy, engaged and supported. We're reviewing the letter from IBO, but their estimates do not account for our latest updates and, in some cases, are fundamentally misunderstanding our budgetary operations." 
Copyright NBC New York