What to Know
A 67-year-old woman suffered serious injuries after she tumbled into a sidewalk opening while looking down at her phone, officials say
Shocking security video shows her tripping over the access door and flipping into the basement
The access door was open because crews were working on the gas lines, officials say
A woman who was walking while on her phone didn't notice an open sidewalk access door in front of her and plunged down the hole on Thursday, officials say.
The 67-year-old woman suffered serious injuries after dropping six feet down the stairs and into a basement.
Officials say she was walking down a sidewalk in Plainfield, New Jersey, before the fall.
These Hospitals in NYC and Surrounding Area Received Lowest Grades in New Safety Report
She was distracted by her phone as she approached the open access door at Acme Windows.
Moments later, shocking security video shows her tripping over the access door and flipping into the basement. Passersby reach out to help her, but she is already mid-fall and disappears into the hole.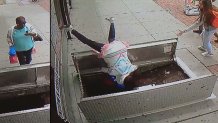 Martin Delgadillo was standing outside his barbershop on Somerset Street just before noon when he saw the woman plunge through the access door.
These Hospitals Have Been Named the Safest in New Jersey
"She was looking at her phone — the last minute — she hit the door and fell right in," Delgadillo said.
The video shows the woman being taken away in a stretcher by paramedics and firefighters. She was listed in serious condition at a hospital on Thursday night.
Officials said the access door was open because crews were working on gas lines. At least one worker wearing a hardhat can be seen in the video after the woman falls.
"I thought texting and driving was a bad thing," Delgadillo said. "Now it's texting and walking."
[NATL] Top News Photos: Pope Visits Japan, and More