Jessica Ross was catching up with friends over dinner in Paris, just off the iconic Avenue des Champs-Élysées, when her phone began to light up with messages of horror happening blocks away.
Explosions at the stadium. Shootings at restaurants. Rumors of terrorist gunmen roaming through the city.
Each dispatch seemed to bring the violence closer to their eatery in the popular 8th arrondissement (a French term for neighborhood).
Worried they could become a target, the Willingboro, New Jersey, native and her four visitors from northern New Jersey searched for a place to hide. Down to the basement they went, far away from stone building's avenue-facing windows.
"We didn't know who was the target at the time," said the 30-year-old, who moved to the French capital a few weeks ago. "[We] just hid out there, just to be safe."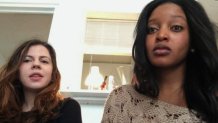 They called the U.S. Embassy for help. Officials told Ross to stay away for fear the American outpost could come under siege.
"They told us to go to the nearest hotel. So we went there and they were completely booked. There were military men and officials all over the streets last night blocking off roads, checking inside cars," Ross said.
"I was trying to remain calm for my friends because it was their first time in Paris," she said.
[NATL] Cities Light Up Around the World After Paris Attacks
A group of terrorists — apparently with ties to ISIS — carried out a sophisticated, multipronged attack across Paris Friday night, French officials said.
Three suicide bombers exploded themselves outside Stade de France — the nation's main soccer stadium — as France played Germany in a match. Gunmen rolled up to at least four restaurants and bars in the 10th and 11th arrondissements and used assault rifles to shoot people as they ate dinner. Officials said four terrorists ambushed a packed American concert at Le Bataclan, a popular music venue. Once inside, witnesses said some threw grenades into the crowd, while others executed concertgoers.
At least 129 people, including an American, were killed in the attacks and more than 350 were injured, officials said. It's the worst loss of life in the city since World War II. U.S. officials said some of the injured are American. All eight terrorists are believed to be dead.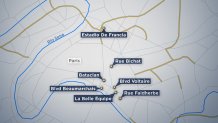 As Ross tried to get her guests back to their Airbnb apartment and make her way home, her roommate, 26-year-old Joanna Maziarz, tried to figure out why police had flooded the city streets.
Maziarz, who is from the suburbs of Detroit, Michigan, and has lived abroad for more than three years, was just two blocks away from Le Bataclan — the scene of the mass execution of some 100 concertgoers.
"For me, it was that sense that you don't feel that safe or people that were nearby. They weren't told at all what was going on, but police were waiving guns at them," she said.
She didn't learn what had happened until she got home and Ross explained what was happening.
"I could've gone dancing just two blocks from there. You kind of [wonder] why there isn't this major alert going out?" Maziarz said.
[NATL] PHOTOS: Terror Attacks Leave Paris Shellshocked
The women spent the night fielding calls and messages from family and friends back in the United States worried about their safety.
Paris remains subdued Saturday, the women said, as people try to cope with the reality of what happened.
"It just sounds so quiet," Ross said. "I can't even put words together. I'm just glad that I'm safe, and my friends are safe."