What to Know
A young buck got his head stuck in a spherical light fixture in New Jersey
The deer's herd abandoned him because they could no longer recognize him with the bubble on his head
The deer was sedated and saved by animal rescuers
A deer with a globe stuck on his head was saved by animal rescuers after the critter's herd abandoned him in the woods of New Jersey, officials say.
The herd had shunned the young buck because they could no longer recognize him behind the glass sphere, according to the Monmouth County SPCA.
Animal rescuers from the SPCA and NJ Division of Fish and Wildlife came to the creature's rescue Friday morning after a homeowner in Colts Neck noticed the buck outside.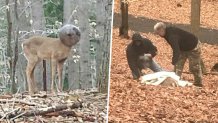 Rescuers were able to sedate the deer and remove the globe, the SPCA said in a Facebook post.
The globe was determined to be a light fixture cover. The SPCA said it believes the globe was filled with water and the deer tried to drink from it, getting its head stuck in the process.
The buck was dehydrated after four days without food and water and also had a couple of scrapes, possibly from blindly crashing into things, according to the SPCA.
[NATL] Unbelievable Animal Stories: Dog Befriends Abandoned Baby Giraffe
The animal was none the worse for wear and was able to walk away after the sedative had worn off, the SPCA said.
It's not the first time a deer in the tri-state has gotten its head stuck in a light globe. In 2016, a deer on Long Island ended up in the same position and was also saved.
And in 2015, another deer in Texas got its head stuck in a pumpkin.