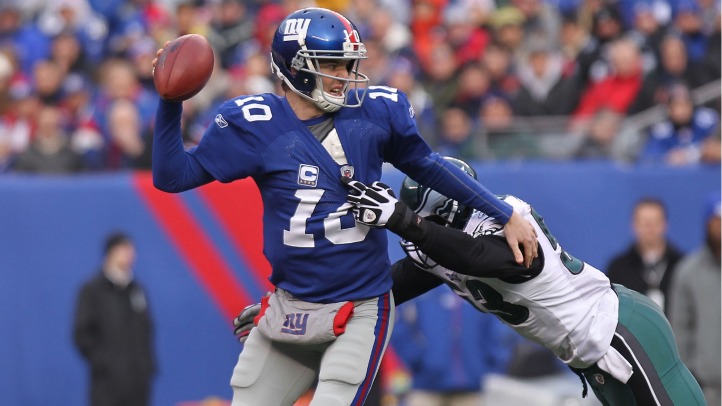 If there's a positive to the NFL lockout, it is that there's ample time available to engage in silly arguments whose outcomes don't really wind up being worth all that much.
Lists are always good ways to touch off such arguments, so the NFL Network's attempt to have the league's players come up with the top 100 players in the the league has caught our eye. Any list like this is bound to have egregious errors, with the only question being just how widespread the outrage is at any of the missteps.
Pat Kirwan of NFL.com is banging the drum for one player left off the list and we think he'll get some support from our little corner of the globe. The player in question is none other than Eli Manning.
It's pretty shocking not to see Manning's name on the list. The idea that quarterbacks who win Super Bowls are better than those that don't has been driven into our head so often over the years that the gut reflex is to give those guys the edge over any player with better numbers but no rings.
Players obviously don't see things that way. The list is in progress, but we know that there are 12 quarterbacks on the final list so we'll just compare him to those guys instead of trying to come up with a formula to compare a quarterback to a nose tackle.
The obvious inclusions are the other guys with rings: Tom Brady, Peyton Manning, Aaron Rodgers, Drew Brees and Ben Roethlisberger. We already know that Donovan McNabb, Joe Flacco, Josh Freeman and Tony Romo are also on the list which means guys like Philip Rivers, Matt Ryan and Michael Vick also probably made it over Eli.
You can't argue with any of the guys in the first tier, but it boggles the mind that someone would consider McNabb, who isn't even a starting quarterback, to be a better signal caller than Manning. That's pretty indefensible, but it doesn't really answer the question of why Manning's peers think so little of his ability.
His inaccuracy is the first thing that comes to mind, but he ranked ninth in the NFL in completion percentage. He throws touchdowns, hits big plays with some regularity and has won more than he's lost since becoming a starter.
His penchant for making the big mistake is probably the next thing in line. There's no easy metric to measure that habit, but there's no doubt he has less grace under pressure than several of his peers.
That's definitely a black mark against him and it is one that makes us wonder if the Giants themselves don't have a similarly low opinion of Manning. If they thought he was a good player, wouldn't they do a little bit more to protect him instead of bolstering every other part of the team to reinforce the notion that Eli isn't the reason the team wins games?
Ultimately, the two biggest strikes against him have little to do with how he plays the game. There's little doubt that Eli would have a very different and, opinions might vary, more positive reputation if his last name was anything other than Manning.
He can't control that, but he can control the way he carries himself. His body language and facial expressions are those of a six-year-old in the middle of a temper tantrum and we can't help feeling that those outbursts leave people with a negative impression.
Based simply on how he plays the game, however, Manning should be on the list.
Josh Alper is a writer living in New York City. You can follow him on Twitter and he is also a contributor to Pro Football Talk.
Copyright FREEL - NBC Local Media