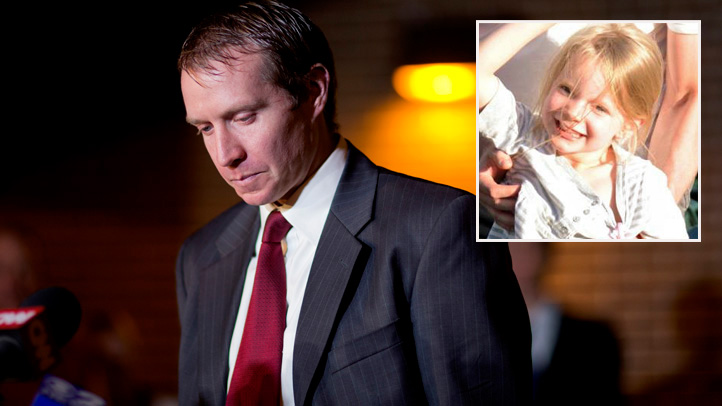 When Alissa and Robbie Parker met face-to-face recently with the father of the young man who killed their daughter and 19 other first-graders at Sandy Hook Elementary School, they weren't angry with him and didn't blame him for the massacre.
Instead, the Parkers said they and Peter Lanza shared their condolences for one another and talked about his son, Adam Lanza, during the emotional meeting, which lasted more than an hour.
"I don't feel like he should be held responsible for what happened that day," Alissa Parker told "CBS This Morning," during the second part of an interview that aired Friday. "That was not ultimately his decision to do that, so how can I hold him responsible? Were there missteps in the raising of his son? Possibly."
Adam Lanza, 20, fatally shot 20 children and six educators with a military-style rifle on Dec. 14, then killed himself as police arrived. Authorities say he also killed his mother at their Newtown home before he went to the school. The Parkers lost their 6-year-old daughter, Emilie, in the rampage.
Alissa Parker said she told Peter Lanza that there was an opportunity to learn from the killings and his cooperation was vital.
The Parkers wouldn't reveal what Peter Lanza said about his son. Connecticut state police haven't released any information about a motive, but people close to the investigation have told the AP that Adam Lanza showed interest in other mass killings and had literature on other mass shootings at his home.
Peter Lanza, who was divorced from Nancy Lanza, has declined to comment about the meeting with the Parkers, who said they came away from it with a better understanding of Adam Lanza.
Robbie Parker, who was among the first of the victims' parents to publicly discuss the shooting, said he and his wife wanted to meet with Peter Lanza because he was the only person who could answer their questions.
"Adam's gone and his mother's gone, and those are the two people that could give us the most information to the questions that all of us have," he said.
The Parkers, who have two other daughters ages 3 and 5, said they're not angry because they know they can't undo what happened at the school that day.
"So the idea of wasting any energy on anger towards somebody or trying to point blame at anybody seems like a waste of time and energy that we can use to be better parents to our girls," Robbie Parker said.
Alissa Parker said she believes Nancy Lanza bears some accountability for what happened. The Bushmaster rifle used in the school shootings belonged to Nancy Lanza.
Asked whether she forgives Adam Lanza, Alissa Parker said it's not her burden to bear.
"I do hold him accountable, but I feel like God will determine that," she said. "And I feel like he's in a place where the judgment will happen, and I don't have to. I don't have to judge him, and I'm at peace with that."

Meanwhile, Gov. Dannel P. Malloy's commission reviewing the deadly school shooting forwarded him some preliminary recommendations on Monday, including proposals to register all firearms and require all K-12 classrooms have doors that can be locked from the inside.
There was also enough consensus among the commission members to recommend bans on high-capacity magazines and the possession, sale or transfer of guns — both military-style firearms and handguns — that are capable of firing more than 10 rounds of ammunition without reloading.
Malloy, a Democrat, has already expressed concerns about the recommendation concerning the gun ban, which goes further than many of the proposals being considered by legislators as they try to craft a response to the Dec. 14 massacre at Sandy Hook Elementary School. Malloy stressed that he does not support the confiscation of weapons.
Other recommendations of Malloy's Sandy Hook Advisory Commission include limiting the amount of ammunition that can be purchased at one time, requiring trigger locks be provided at the time of sale or transfer and requiring firearms in a home be stored in a locked container.
Hamden Mayor and commission chairman Scott Jackson said in a letter to Malloy that he realizes the governor may agree with some of the interim recommendations and disagree with others. But Jackson said the panel believes the report includes some "common-sense principles upon which short-term change is possible and action should be taken."
Legislative leaders have been meeting behind closed doors, attempting to write a bipartisan bill for consideration by the full General Assembly. A vote may be held this week or next. Besides recommendations from their own legislative task force, the panel has suggestions on gun control measures proposed earlier by Malloy, and this latest interim report from Malloy's commission.
Jackson said the commission plans to spend the coming months focusing on mental health services. Members are expected to present a comprehensive final report within the year.
That report, he said, will respond to Malloy's proposals for gun law changes as well as the findings in the State's Attorney investigation into Newtown.

Malloy says the Chief State's Attorney will release additional information to the public about the shooting by March 29.
Copyright AP - Associated Press