What to Know
A huge David Bowie exhibit is coming to the Brooklyn Museum
Federal authorities are relaxing restrictions on Drug lord Joaquin "El Chapo" Guzman, who is imprisoned in Manhattan
The last vehicle will cross the decades-old Tappan Zee Bridge Friday night; the span is set to be demolished
With so much in the news, here are the stories you may have missed this week.

Street Named After Renowned NYPD Detective
The 86th Street transverse in Central Park has been renamed "Detective Steven McDonald Way" after the legendary NYPD officer. McDonald was paralyzed after getting shot while patrolling Central Park in 1986. Despite being a quadriplegic for decades, McDonald worked tirelessly as an ambassador for the department across the world and an inspiration to fellow officers. He died of a heart attack in January.
Residents Want NYC Street Named After Hendrix
Some Greenwich Village residents want to rename West 8th Street, "Jimi Hendrix Way." Supporters hope the name change will attract visitors and help fight gentrification by bringing "that magic" back to the area, the New York Times reported. Hendrix opened Electric Lady Studios in the area just before his death in 1970.
Bowie Exhibit Coming to Brooklyn
A traveling exhibit about David Bowie is coming to the Brooklyn Museum next spring, the museum announced. "Starman" features more than 300 pieces of memorabilia collected from Bowie's teen years through his death in 2016. It opens in Brooklyn in March.
NYC Neighborhood Ranks Among 10 Coolest in America, Travel Website Says u002du002d and It's Not Even in Manhattan
Declaration of Independence at Auction
A newly-discovered copy of the Declaration of Independence will be auction off in New York in November. The 241-year-old print is one of only five surviving copies published by Manhattan printer John Holt, who edited the Continental Congress' original text by adding a statement from New York politicians and changing some punctuation marks. The print could sell for as much as $1 million when it hits the auction block in Potsdam on Nov. 11.
Last Vehicle to Cross Tappan Zee
On Friday night, the last vehicle will cross the Tappan Zee Bridge. After that, Westchester-bound drivers will be re-directed to the new Tappan Zee Bridge, also known as the Mario Cuomo Bridge. The switch-over is happening weeks ahead of schedule. The 61-year-old former bridge will be demolished.
NY'ers Back Football Protests, Poll Shows
A new poll has found the majority of New Yorkers side with NFL players in their spat with President Trump over the national anthem. Sixty percent say the First Amendment protects the rights of all Americans and that they support the right of athletes to kneel during the anthem. New Yorkers' opinions fall along party lines; more than three-quarters of Democrats support the players' kneeling, while 71 percent of Republicans find it disrespectful.
State May Close Metro-North Crossing
New York may close the Metro-North railroad crossing where six people were killed in Westchester. Lawmakers are looking at closing the crossing at Commerce Street in Valhalla. That's where a Metro-North train slammed into an SUV back in February 2015. Investigators say the SUV's driver was at fault. The state also wants to close a crossing on nearby Cleveland Street over safety concerns.
Life Improves for Imprisoned "El Chapo"
Drug lord Joaquin "El Chapo" Guzman will soon be able to speak to pre-approved family members by phone, see a priest and receive books and magazines in his cell after federal officials relaxed restrictions following concerns from his lawyer. Guzman has had few privileges and been under heavy surveillance at a federal jail in Manhattan since January.
EPA Forces Queens Businesses to Close
The EPA announced its forcing six Ridgewood businesses to close because a chunk of land they're on is toxic. The area along Irving and Cooper avenues was the site of the Wolff-Alport Chemical Company for three decades. Workers regularly buried chemical waste and dumped the rest in sewers.
Efforts to Clean Polluted NJ Waterway
Gov. Chris Christie has approved a plan to limit the amount of dumping allowed each day into Barnegat Bay. Environmentalists say it's a big step to easing the pollution in one of the most stressed bodies of water in the nation. Activists say the measure should have been approved years ago but this is a step in the right direction.
Organizers Take Zombies' Weapons Away
Leaders in Asbury Park have decided to disarm their zombies. Organizers of the Zombie Walk said prop weapons will not be permitted at the event Saturday because of safety concerns. The decision was made in the wake of the mass shooting in Las Vegas, but organizers say it will remain in effect for future events. Up to 10,000 people are expected to dress as zombies for the 10th annual Zombie Walk.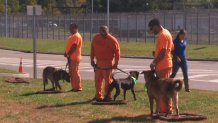 Inmates Help Shelter Dogs
Inmates are helping dogs get a forever home thanks to a new pilot program on Long Island called "Handcuffs for Healing." The Brookhaven Animal Shelter links low-risk inmates with homeless dogs and teaches them to train the animals. Organizers hope those skills could help inmates find employment handling animals once out of jail. The dogs will be ready for adoption later in October.
Top Tri-State News Photos