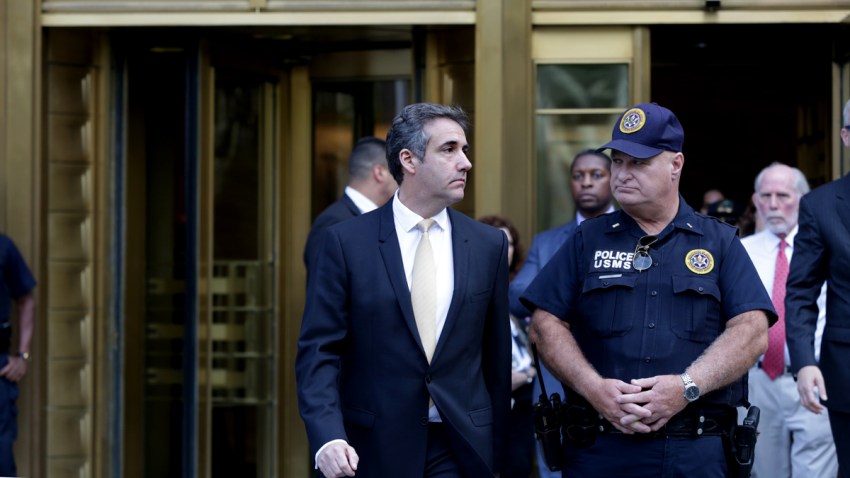 What to Know
Investigators in New York state have issued a subpoena to Michael Cohen as part of their criminal probe into the Trump Foundation.
It was issued after Cohen's attorney said the longtime lawyer for President Trump has information that would be of interest to prosecutors.
Cohen could potentially be a major source of information on whether Trump or his charity broke state law or lied about their tax liability.
Investigators in New York state have issued a subpoena to Michael Cohen as part of their criminal probe into the Trump Foundation, an official with Democratic Gov. Andrew Cuomo's administration confirmed to The Associated Press on Wednesday.
The subpoena was issued after Cohen's attorney said his client has information of interest to both state and federal prosecutors. As Trump's longtime lawyer and self-described "fixer," Cohen could potentially be a significant source of information for state investigators looking into whether Trump or his charity broke state law or lied about their tax liability.
"We can confirm that a subpoena has been issued to Michael Cohen for relevant information in light of the public disclosures made yesterday," said James Gazzale, a spokesman for the state's tax department.
If evidence of alleged crimes is found, the matter could be referred to state Attorney General Barbara Underwood, who could pursue criminal charges and seek the release of Trump's tax returns. Anyone charged with a state crime in relation to the investigation could not be cleared by a presidential pardon.
Cohen pleaded guilty in Manhattan federal court Tuesday to campaign-finance violations and other charges, saying he and Trump arranged the payment of hush money to porn star Stormy Daniels and a former Playboy model to influence the election.
Trump Associates Indicted or Convicted During His Presidency
When President Donald Trump's former campaign chairman Paul Manafort was convicted on eight felony counts on Aug. 21, 2018, he became the first member of Trump's campaign to be found guilty. Several other Trump associates have pleaded guilty, including the president former personal attorney Michael Cohen, who did so within minutes of Manafort's conviction, and again on Nov. 29, 2018.
On Jan. 25, 2019, Roger Stone became the sixth Trump aide to face criminal charges. The seven-count indictment against Stone, Trump long-time confidant, accuses him of witness tampering, obstruction and false statements about his interactions related to WikiLeaks.
Click each photo to learn more.
Photos: Getty Images
"I do believe that he has information about Mr. Trump that would be of interest both in Washington as well as New York state," Cohen's attorney Lanny Davis said Tuesday night on CNN's "Cuomo Prime Time," a show hosted by Chris Cuomo, brother of New York's governor.
The state's investigation follows Underwood's lawsuit alleging Trump illegally tapped his Trump Foundation to settle legal disputes, help his campaign for president and pay for personal and business expenses, which included spending $10,000 on a 6-foot portrait of himself.
The attorney general's office is seeking $2.8 million in restitution and other unspecified penalties in its civil suit. It said that it had referred to its findings to the IRS and the Federal Election Commission for possible further action.
A spokeswoman for Underwood declined to discuss the state's new subpoena and noted that Cuomo's administration would need to refer the tax department investigation to it before criminal charges could be pursued.
"We cannot comment on potential or ongoing investigations," said spokeswoman Amy Spitalnick. "As our lawsuit against the Trump Foundation illustrates, we will hold Donald Trump and his associates accountable for violations of state law, and will seek a criminal referral from the appropriate state agency as necessary."
Messages left with attorneys for Cohen and Trump were not immediately returned Wednesday.
Cuomo is seeking a third term this November and faces liberal activist and former "Sex and the City" star Cynthia Nixon in next month's Democratic primary. He and Trump have exchanged insults several times in recent weeks, particularly following Trump's criticism of Cuomo for telling a Manhattan crowd that America "was never that great" last week. Cuomo later said his comment was "inartful."
Copyright AP - Associated Press