What to Know
A sixth New York region reopened Tuesday and another will meet Gov. Andrew Cuomo's criteria to do so Wednesday; NJ and CT have also eased a number of restrictions -- and tri-state beaches reopen Friday
Mayor Bill de Blasio says he thinks NYC will meet Cuomo's 7 metrics in June; on Tuesday, he unveiled a new summer school program for nearly 180,000 kids to help keep them on track
To date, the tri-state area has lost at least 36,800 people to COVID-19 and confirmed nearly 540,000 infections; the national death toll is approaching 100,000
More than half of New York's 10 regions have started their reopening process as of Tuesday, while New Jersey now has a multi-stage roadmap for getting back on track. Some restrictions have eased, clearing the way for "normal" tri-state activities like beachgoing and dining out to resume in the coming weeks.
Gov. Andrew Cuomo and Gov. Phil Murphy have championed their people's progress in flattening the curve as they announce new milestones in the war against coronavirus daily.
For the first time in months, some families will be able to visit their loved ones in New York hospitals, part of a two-week pilot program involving 16 facilities that Cuomo announced on Tuesday. Visits will have time limits. Visitors will be given personal protective equipment and must wear it; they'll also be subject to symptom and temperature checks.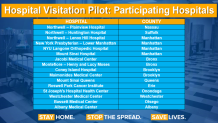 Also new: Cuomo said Memorial Day ceremonies with 10 people or fewer are permissible at local governments' discretion. Vehicle parades are preferred to gatherings, though.
In New Jersey, in-person sales at car and motorcycle dealerships and bicycle shops can resume Friday, while elective and non-urgent medical and dental procedures will be permitted next week, Murphy said Tuesday.
More restrictions will relax as health indicators and the states' abilities to safeguard public health improve, the governors say. They could be reinstated if health indicators deteriorate or people stop complying with proven mitigation measures.
In other words: Don't let your guard down.
Social distancing and face coverings aren't going away anytime soon. Neither is remote work, where possible. These safety precautions will be entrenched in the "new normal" even as the daily number of new virus cases falls lower and lower.
"COVID-19 has changed everything. After 9/11, new security measures were put into place that we were not accustomed to," Murphy said as he detailed his state's path forward. " Those practices are now part of our routines. The aftermath of COVID-19 will be similar."
Still, the economic gears are beginning to churn. Western New York reopened Tuesday after meeting its contact tracing requirements, while the Capital Region will be eligible to enter Phase 1 on Wednesday, Cuomo said. Five other regions -- Mohawk Valley, Central New York, North Country, Southern Tier and the Finger Lakes -- began their process last week.
Long Island has made tremendous progress, Cuomo said. Just a few weeks ago it was seeing about 100 deaths a day. Now that number is 13. It still has a few benchmarks left before it meets the governor's criteria to enter Phase I.
While New York City is the furthest region from reopening, Mayor Bill de Blasio says he expects it to hit all Cuomo's seven benchmarks at some point in June. In the meantime, those who live in the five boroughs are watching more open up around them each day. (Here's a list of what's opening in the tri-state.)
"Basic dynamics we have now are gonna hold," de Blasio said when pressed about his decision to keep city beaches closed as state-run beaches across the region open for Memorial Day. "We are not doing this. It's not beach season. This is a pandemic. First half of June (will be) the first opportunity to relax anything."
It takes patience and discipline, he and the governors acknowledge. But it's that same discipline that helped their states move past the peak of the crisis. And it's that commitment that will help keep them from triggering a COVID resurgence as they move through the reopening phases.
Region by Region Status
Source: New York State; Report as of May 18
Given the importance of testing to New Jersey's path forward, Murphy said Tuesday he authorized licensed pharmacists to conduct COVID-19 testing in the state. CVS is expected to offer self-swab tests at up to 50 locations in New Jersey by month's end. The state just entered Stage 1 of its reopening, the initial phase of relaxing restrictions, this week.
The New York regions that have opened so far are also in their first phase.
The second phase, in both states, may include expanded retail, al fresco dining with limited capacity and the return of more professional services. While Murphy says his Stage 2 may include reopening museums and libraries, Cuomo has slated the arts and entertainment sections for New York's final reopening phase.
Also part of that phase: Education. The hope is still that schools will be able to reopen in the fall, New York and New Jersey governors say. At the same time, they're looking at ways to reimagine learning outside the classroom and within it.
NYC Unveils Summer School Plan, Union Petitions for New Fall Safety Protocol
New York City had to transition its 1.1 million public school students to online learning within a week when the pandemic hit, forcing states to shut down their in-person instruction. It takes special effort to connect with kids and keep them engaged, de Blasio says. Some may need more help over the coming months.
"We see this as a summer where unprecedented learning can happen, and it can propel us forward into the next school year," the mayor said Tuesday.
Nearly 180,000 students identified as needing additional support have been slated for summer program enrollment. For kids in grades 3-8, the program will run four days a week for six weeks. The curriculum covers math and English language arts and will be taught via live or pre-recorded instruction. Students will also participate in enrichment activities like virtual field trips, de Blasio said.
High school students will participate in a five-day-a-week program for six weeks. They'll get up to five hours of instruction daily, limited to subjects they did not pass. One-to-one check-ins will be part of the summer programs for both high- and middle-schoolers.
As far as fall learning, de Blasio says any decisions will prioritize student safety above all else. The United Federation of Teachers has started a petition to ensure certain safety precautions are in place before schools reopen. Those include widespread testing, temperature checks for everyone who enters a school building, rigorous cleaning protocols and adequate personal protective gear. It also urges an "exhaustive" tracing procedure to track and isolate anyone who has had close contact with a student or staff member who tests positive.
Right now, it's too early to make a call on school in September. Disturbing new data about how COVID affects kids has added yet another layer to the decision-making process. New York City has identified nearly 150 possible cases of what the CDC has called multisystem inflammatory syndrome in children (MIS-C). The syndrome is linked to COVID, the CDC says, but attacks the blood vessels rather than the respiratory system. In some cases, it has attacked children's hearts.
Beyond Reopening: Building Back Better
The pandemic paused more than school. It derailed every aspect of everyday life for tens of millions of people. With health experts warning of a potential second COVID-19 wave in the fall, governors are looking to do more than end shutdowns.
"It's not just about reopening," Cuomo said Monday. "Life is never about I want to get back to where I was. We want to go forward. We want to advance."
Above all, no one wants to slide backward. Remember how quickly COVID overtook New York, Cuomo says. He recently offered an example.
In March, 61 people went to choir practice. One had COVID symptoms. Soon, 53 people were sick. Three were hospitalized. Two died.
Barely 10 weeks later, New York state has confirmed 22,843 virus deaths. Cuomo added 105 names to the toll Tuesday, the lowest single-day number since March. "Just" another hundred people dead seems like progress given a devastating stretch in April that took nearly 800 New York lives a day. It's still a staggering number, Cuomo says.
More than two-thirds of those fatalities are in the five boroughs, which, with the city's 4,828 probable virus deaths, have seen their toll climb above 20,000. Even that may not fully capture the scope of the tragedy, the CDC says.
Nearly 300 public employees in New York City -- police officers, EMTs, firefighters and healthcare workers -- have lost their lives to COVID-19. De Blasio says the city will work to advance state legislation to provide line-of-duty death benefits to their families. The MTA has already agreed to pay out $500,000 to the spouses, beneficiaries or estates of the transit workers who died.
No state has lost more people to the virus than New York. But as its daily tolls decline, New Jersey has emerged as the most-impacted state, reporting more deaths per 100,000 residents than any in America, Murphy says. The state has reported 10,586 deaths as of Tuesday, while Connecticut's toll stands at 3,449.
Nationally, the grim toll is nearing 92,000, according to NBC News. Researchers say it could surpass 112,000 by early June.
Experts say the crisis won't "really" be over without a vaccine. Optimism on that front came Monday when a widely watched U.S.-backed human clinical trial showed positive early results. All 45 subjects developed antibodies. A final testing phase is expected to begin in July.
Copyright NBC New York