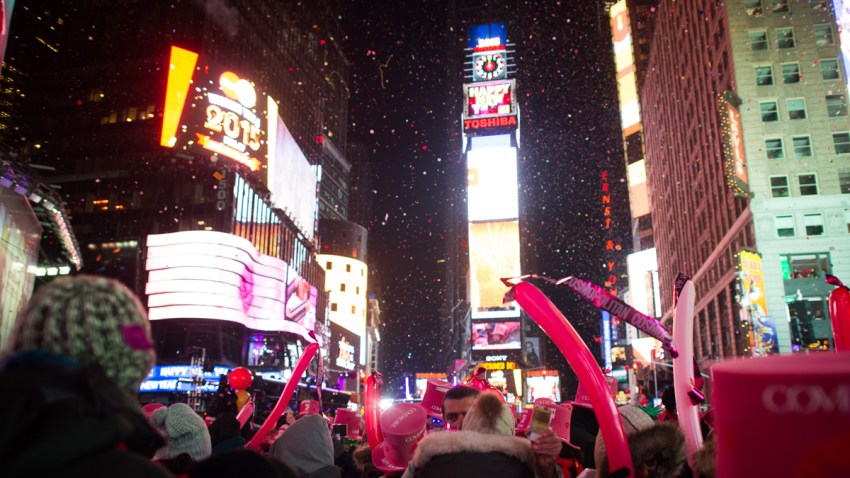 Nearly 6,000 NYPD officers, some armed with radiation detectors, bomb dogs or rifles, will be assigned to Times Square for Thursday night's New Year's Eve festivities, officials announced Tuesday.
NYPD officials joined Mayor de Blasio and FBI Assistant Director Diego Rodriguez Tuesday afternoon to outline plans to keep more than 1 million revelers safe as they cram into the Crossroads of the World to watch the ball drop and ring in the new year.
"It's one of the great events in this city each year," de Blasio said. "It's iconic and an example of New York City at its best. We will be prepared."
Though officials say they have received no credible threats against the yearly event, they are planning to institute heavy security measures.
As with previous years, roadways around Times Square will be shut down ahead of the event. Spectators hoping to get in will have to run a gauntlet of security screenings before being corraled off at 3 p.m.
Among the thousands of officers stationed throughout the district will be the 1,200 officers who graduated from the police academy Tuesday. Bratton said the assignment will be the officers' first.
De Blasio added that the NYPD's newly minted critical response command -- 500 or so officers trained to deal with counterterrorism -- will be utilized in the event. Some, with long guns, will be perched atop buildings to keep an eye out for suspicious activity.
Other officers, meanwhile, will be monitoring the thousands of cameras placed throughout the popular tourist district.
"There will be many police that you will see and many that you won't see," the mayor said.
The FBI will also be aiding in security and counterterrorism efforts, Rodriguez added.
Tuesday's announcement comes amid increasing concerns over terrorism in the wake of an ISIS-orchestrated attack in Paris that left 130 dead and another attack weeks later at an office in San Bernardino, California, when a man and his wife gunned down 13 people at a holiday party.
Bratton said that concerns over ISIS and other terrorist cells have prompted them to increase security at other events throughout the city, including the festivities in Coney Island and a midnight run in Central Park.