What to Know
In total, the feds named 17 new interim U.S. attorneys across the nation, replacing people who held the job on an acting basis for last year
Three new local prosecutors have been named; the appointments take effect Thursday
The appointments are in effect for 120 days, during which time the president will have to nominate permanent replacements
The Justice Department named new interim U.S. attorneys for Manhattan, Brooklyn and New Jersey on Wednesday, including one candidate with ties to Rudy Giuliani who interviewed personally with President Trump for the job.
In total, the government named 17 new interim U.S. attorneys across the country, replacing people who have held the job on an acting basis for the last year. (In many cases, they were filling in for predecessors who were abruptly fired early in the Trump administration.)
The appointments take effect Thursday and are in effect for 120 days, during which time the president will have to nominate permanent replacements but they still have to go through the congressional approval process.
The three new local prosecutors are:
* Southern District of New York: Geoffrey Berman
* Eastern District of New York: Richard Donoghue
* New Jersey: Craig Carpenito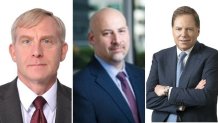 Berman interviewed with Trump last fall, CNN and Politico reported in mid-October, a move that was considered highly unusual. A top official at the law firm Greenberg Traurig, Berman is a law partner of former NYC mayor Rudy Giuliani. He was a federal prosecutor from 1990 to 1994 and was also part of the Iran-Contra prosecution team, which successfully prosecuted a former CIA employee for tax fraud.
In a press release issued Wednesday, United States Attorney General Jeff Sessions said that as interim U.S. Attorney Berman would lead "an incredible team of attorneys" and help provide New Yorkers with "safety, security and peace of mind."
Donoghue runs litigation for the software company CA Technologies, but previously spent 11 years as a federal prosecutor, including a stint as chief of the Eastern District's criminal division. He is also a former military judge and paratrooper, and someone who Sessions praised as having "tremendous experience prosecuting MS-13." The gang plagues some areas of Long Island with violence and crime.
"Every MS-13 member in Long Island should know, Richard Donoghue will use all the tools at his disposal to get criminals off our streets," Sessions warned in a press release.

A source close to the judiciary committee familiar with the thinking of New York Sens. Chuck Schumer and Kirsten Gillibrand says the two participated in the larger vetting process related to the Big Apple appointments, "but the senators would still need to offer formal support should the president seek their long-term appointment beyond the 120 days."

Donoghue apparently has the senators' support. It's not clear if Berman does at this time.
[NATL] Top News Photos: Pope Visits Japan, and More
As for the New Jersey job, Carpenito is a securities lawyer whose name has been bandied about for months. He reportedly has broad support from the state's congressional delegation and from former federal prosecutors. He spent three years as a federal prosecutor in New Jersey and also worked for the SEC. He also has ties to Gov. Chris Christie.
A spokesman for U.S. Senator Cory Booker told NBC New York the senator had no immediate comment.

Ten of the 17 districts where interim appointments were named Wednesday have a new person coming in to replace the acting U.S. attorney. Apart from the ones in New York and New Jersey, they include Hawaii, Nevada, Central District California, Middle District Florida, Eastern District Michigan, Western District Missouri and the Virgin Island. In the other seven districts, the acting U.S. attorney was named the interim U.S. attorney.
Terror, Trump, a Giraffe: A Look Back at the Top 20 Local News Stories of 2017