A 22-year-old man sought in connection with an hour-long scare and evacuation near a New York City mall turned himself into police and faced a series of charges in the case, a senior law enforcement official told News 4 Tuesday.
Meanwhile, a second man is now being sought for questioning in connection with the case, two senior law enforcement officials said. They believe that man, 27-year-old Taylor McRae Lyne from Santa Rosa, California, may be the person who stole the Tesla at the center of the Queens Mall Place scare from Las Vegas and drove it to New York.
He is also believed to have been with the initial suspect, a self-described "American nationalist" previously identified by sources as Louis Shenker, in connection with Monday's incident at the mall, the two officials said. A security guard apparently noticed two men trying to take an eBike from the mall area at the time the Tesla was left parked on a spiral ramp between garage levels.
NBC New York was unable to reach Lyne's family for comment, as a phone number listed for them had been disconnected.
Shenker turned himself in early Tuesday morning, police said. He was officially charged with placing a false bomb, criminal possession of stolen property and abandonment of disabled animals. The last charge stems from the discovery of a Husky in the trunk of the vehicle; cops rescued the pup, which appeared to be OK.
Shenker had not yet been arraigned, according to the Queens district attorney's office.
Police initially responded to the mall for an investigation into a suspicious vehicle, one that had a "hoax device" attached to it. The area was evacuated as authorities worked to ensure there were no active explosives inside the vehicle.
Shenker, who has described himself on social media as a "patriot" and a supporter of President Donald Trump, was previously arrested Dec. 30 for allegedly torching a Black Lives Matter poster attached to a police barricade in Manhattan. He was arraigned Jan. 1 and released without bail.
A message seeking comment was left for Shenker's lawyer in that case.
The car in Monday's scare had pro-Black Lives Matter movement signage, raising questions of whether the signs were placed there in an attempt to discredit the movement, according to three senior law enforcement officials.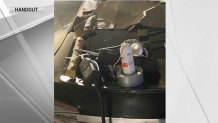 NYPD officials have been trying to trace how the car, which had Nevada license plates, was stolen there or was already in New York when it was taken. The second suspect officials identified Tuesday may be the key to those questions.
There are early indications based on items found inside the vehicle that Shenker may have been living inside the vehicle, investigators have said.
Shenker has appeared on the online conspiracy show InfoWars and has filled his social media accounts with far-right views and buzzwords like "#MAGA" and "#StopTheSteal," noting his support of Trump's false claim that the 2020 presidential election was rigged.
Shenker was expelled from the University of Massachusetts Amherst amid a controversy over his views. His lawyers alleged he was a victim of anti-white and anti-Jewish attacks and that faculty members conspired to file false hate crimes charges against him because his views did not align with theirs.
A message seeking comment was left with the university's media relations office.
On a since-suspended Instagram account, Shenker mocked the practice of people including their preferred pronouns by listing his as "American / Patriot," and has posted online attacks on Black Lives Matter, pushed conspiracy theories and railed against wearing masks and lockdowns to combat the coronavirus pandemic.
Last month, a protest group accused Shenker of disrupting a Black Lives Matter vigil near Mayor Bill de Blasio's residence and turning it into a pro-Trump, anti-de Blasio "Chanukah Rave." A video posted to social media showed a man purported to be Shenker threatening to send the Proud Boys and Infowars host Alex Jones after a woman attending the vigil.
Copyright NBC New York/Associated Press