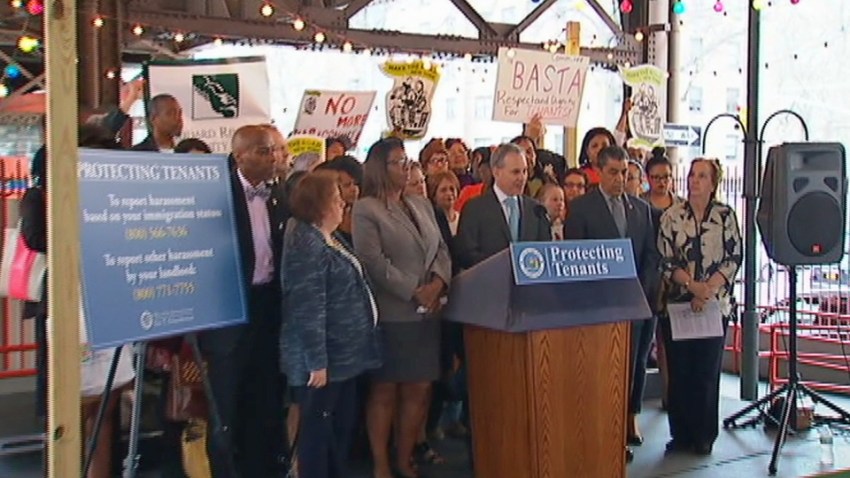 City lawmakers are sending a message to unscrupulous landlords — tenant harassment will not be tolerated.
A new law amends the existing rent-regulated tenants statute by eliminating the need to prove physical injury to a tenant and a landlord's intent in order to secure a criminal conviction for tenant harassment, New York Attorney General Eric Schneiderman announced Wednesday.
The AG says the existing code creates an "inexplicably high bar" that's never been met since its inception 20 years ago.
"Our current laws are outdated, ineffective and totally inadequate to keep tenants safe from unscrupulous landlords seeking to unlawfully evict New York families," he said. "With affordable housing as scarce as ever, it's time for lawmakers to give prosecutors new tools to stop the menacing - and often dangerous - measures these landlords use to force tenants out of their homes."
Landlords could face up to four years in prison if they're found to have repeatedly committed acts like withholding heat or hot water for extended periods of time to force rent-regulated tenants to vacate their apartments. They'll also be charged for alleged harassment or endangering practices.
Under the existing law, a prosecutor must prove that the offending landlord intentionally forced the tenant out of their home, but also that the occupant was physically harmed due to their landlord's actions.
Schneiderman also launched the Tenant Harassment Prevention Task Force, a team that will help combat various housing issues renters face, such as deceptive lending practices and deed theft.
No landlord has ever been convicted of harassment of a rent regulated tenant, according to a recent analysis of data from the state's Division of Criminal Justice Services.