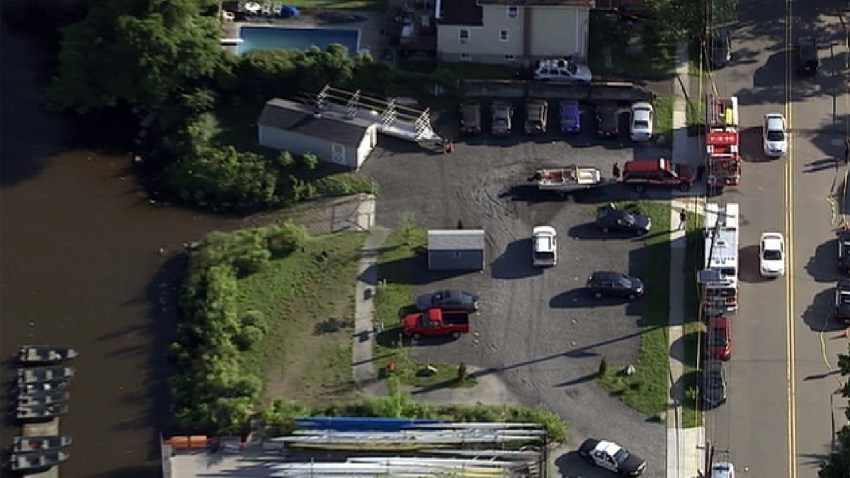 The body of a missing bridge inspector was pulled from the Passaic River Wednesday morning, two days after the man was swept away in a storm surge, Passaic fire and police officials tell NBC 4 New York.
The man's body was pulled from the river in Rutherford, New Jersey, nearly 48 hours after the 47-year-old worker was swept away amid a deluge Monday. Efrain Grajeda had been a bridge inspector with TranSystems for 16 years before Monday's accident.

In a statement, TranSystems said it suffered a great loss, and that it is fully cooperating with investigators.

"Our first thoughts are with Efrain's family," the company added. "We express our heartfelt sympathy to them, his colleagues, and the many people whose lives he touched in his professional and personal life."
Grajeda was inspecting the President Street Bridge Monday from a shallow canal in Weasel Brook when he and other workers were caught in a sudden deluge.
The canal, which flows into the Passaic River, flooded within minutes, according to witness Jeremy Rodriguez. Rodriguez and another bystander, Valentin Beltran, helped to pull one worker out, but couldn't get to the other man quickly enough.
A 911 call was made at about 2:45 p.m.; a helmet and two flashlights were found in the water, the mayor said, but Grajeda, who was not wearing a life jacket, could not be located.
"It started raining so fast and the tide came up, and it happened so quick," said Rodriguez. "I feel bad, because we couldn't do nothing about it."
Firefighters and other responders had used boats with sonar and infrared equipment to search for Grajeda; the search extended for at least a mile and lasted two days before he was found.