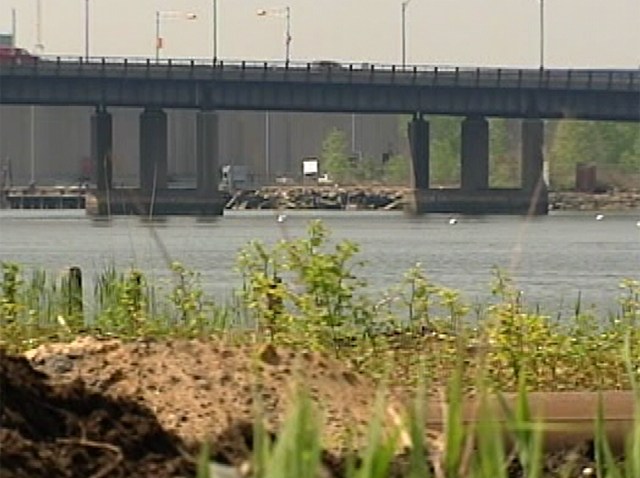 Lincoln Park is getting an extreme makeover.
"Feels great to finally have this going," said Dave Bean, of the NJ DEP. He's the project manager for the Jersey City park's green renovation.
For some 90 or so acres on the west side of the busy Routes 1&9, and stretching down to the banks of the Hackensack River, a multi-million dollar construction effort will turn a third of the acreage into a salt water marsh aimed at rebuilding the fish population of the Hackensack, Newark Bay and ultimately, New York Harbor.
The ball fields will remain on the east side of the highway.
Fishermen "are catching white perch and striped bass," said Bean of the nearby Hackensack River, which has been brought back from the dead over the past few years by Captain Bill Sheehan and his team at the Hackensack Riverkeeper.
Finding suitable sites and restoring them to wetland status along the edge of the harbor has been a high priority for the NY/NJ Baykeeper, the National Oceanic and Atmospheric Administration and the U.S. Army Corps of Engineers.
The site in Jersey City is one of the larger restorations as the contractor, Green Construction, uses heavy earth moving equipment to carve a series of channels for brackish river water to flow into and serve its role as a breeding ground for marine life below the waterline, and birds and other animals above.
To jump start a project on the drawing boards for years, U.S. Commerce Secretary Gary Locke formally announced a $10.6 million American Recovery and Reinvestment Act grant as the bulldozers rumbled behind him. It was the largest NOAA grant from the Act for this type of wetland restoration.
"We calculated there's 41 full time jobs created as a result of this construction project," Bean said, adding that another 60 acres of the site will become a nine hole golf course for the Hudson County Parks Department.
While the site is less than a mile from Newark Bay -- a heavily polluted shipping channel laced with Agent Orange Dioxins produced during the Vietnam War -- Bean is not overly worried about the toxics spreading to his marsh.
He explained that a fresh water spring on the site should offer enough flow to keep out the dioxins of the new wetlands.
And because the marsh is being lined with clean dirt, "This is going to be a unique wetland in this part of the world," Bean said.
The marsh should be done by the Spring of 2011, according to Bean.
"This is where the juvenile fish are gonna be feeding," he added with a smile on his face.
Follow Brian Thompson on Twitter @brian4NY