Two on-duty MTA employees -- both 43-year-old subway conductors -- were attacked on the job in separate boroughs a week apart, with a rider gashing one victim in the head with a glass bottle and another randomly shoving the second to the platform.
The most recent attack happened this past weekend in Manhattan. According to police, a rider walked up to the 43-year-old conductor's partition window on the train around 1:45 a.m. Sunday and smashed the glass bottle into his face.
The conductor suffered multiple lacerations to his head. He was taken to a hospital for treatment and later released. The suspect, meanwhile, ran off, though it wasn't clear from which subway station he fled. It also wasn't known if words were exchanged.
A week earlier, on May 8, cops say a different suspect randomly shoved an on-duty MTA conductor to the ground at the Bronx's 205th Street-Norwood station. The conductor suffered substantial back pain and was taken to a hospital for treatment.
He is expected to be OK. It wasn't clear if any words were exchanged between the victim and suspect in that apparently random case either.
Police released surveillance images of both suspects (below) and video of the one in the Bronx case (above). Anyone with information on either investigation is asked to call Crime Stoppers at 1-800-577-TIPS.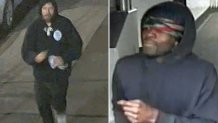 Copyright NBC New York