As Hulu gets ready to double its number of original shows over the next year, Dish Network decided to find out what series keeps each state binge watching on the couch -- and New York's favorite show is apparently the only one.
The top Hulu Original series in New York is the dark, now-canceled comedy "Difficult People," starring Julie Klausner and Billy Eichner. It was the only state that watched it the most -- not surprising, given the show's heavy New York City influence.
New Jersey and Connecticut's favorite Hulu Original shows both fell in the top-ranking series across the U.S. overall, with New Jersey's being "The Path" and Connecticut's being "The Hotwives."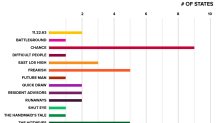 The top-watched Hulu Original shows across the states were:
"Chance," starring Hugh Laurie Dr. Eldon Chance, a forensic neuropsychiatrist stuck in a rut who falls for a patient, Jaclyn Blackstone, who is potentially suffering from multiple personality disorder. This was the most watched in Arkansas, Delaware, Kentucky, Missouri, New Mexico, North Carolina, Tennessee and West Virginia.
"The Path," starring Aaron Paul, Michelle Monaghan, and Hugh Dancy. This follows the members of a fictional cult called Meyerism as they struggle with relationships, crises of faith, and ambition. This was most watched in Colorado, Idaho, Montano, New Hampshire and New Jersey.
"The Mindy Project," a New York City-based comedy following the romantic misadventures of Dr. Mindy Lahiri, played by Mindy Kaling, and her colleagues. This was most-watched in D.C., Massachusetts, South Carolina, Virginia and Wisconsin.
"The Hotwives," a riff off the popularity of "The Real Housewives" franchise, this scripted TV show is about the fictional, glamorous lives of "hot housewives" in different cities. This was most watched in Connecticut, Florida, Georgia, Indiana and Kansas.
Read more at the Dish blog here.