What to Know
Bruce and Irene Steinberg and their three sons were killed while vacationing in Costa Rica
The family was apparently on a sightseeing trip when the plane they were on crashed Sunday
They are from Scarsdale, about 25 miles north of New York City
Five family members from Westchester were among 10 Americans killed when a plane crashed in Costa Rica this weekend, a family member and neighbors confirmed.
A mother, father and their three children from Scarsdale, New York, were aboard the plane. It's believed the five were on a sightseeing tour at the time.
Bruce and Irene Steinberg, and their teenage sons, Matthew, William and Zachary, were killed, Bruce Steinberg's sister confirmed with NBC News on Sunday night.
"They were the most amazing family," Tamara Steinberg Jacobson told NBC News.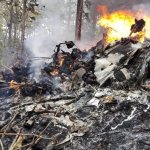 Several neighbors confirmed a photo of the Steinbergs and said the community was devastated by the news.
"Inconceivable that a whole family should meet with such a disaster," neighbor Susan Alder said.
Grief counselors will be on hand at Scarsdale High School to help students and graduates cope with their death.
Rabbi Jonathan Blake of the Westchester Reform Temple in Scarsdale said in a statement that the Steinbergs were involved in philanthropy and local Jewish groups. "This tragedy hits our community very hard," Blake wrote.

The plane was carrying five other U.S. citizens and two local crewmembers when it crashed in a wooded area, killing everyone on board, authorities said.
In St. Petersburg, Florida, Rabbi Jacob Luski of Congregation B'nai Israel said Monday that victims' relatives had informed him that four members of his congregation were also on the plane.
"It is a tragedy that the Drs. Mitchell Weiss and Leslie Weiss and their two children, Hannah and Ari, died in that terrible crash," he said. "They were a wonderful family who will be missed."
Hannah Weiss was a sophomore in List College's Joint Program with Columbia University, according to a statement from the school.
Also killed was Amanda Geissler, who worked for a travel company called Backroads, the company's spokeswoman said. The other tourists were Backroads guests, the company confirmed.
At a news conference, Enio Cubillo, director of Costa Rica Civil Aviation, said the Nature Air charter flight took off just after noon Sunday from Punta Islita and was headed for the capital of San Jose when it crashed.
Cubillo said the cause was under investigation.
He identified the pilot as Juan Manuel Retana and described him as very experienced. Former Costa Rican President Laura Chinchilla said via Twitter that Retana was her cousin.
The same plane had arrived in Punta Islita on Sunday morning from San Jose and was delayed in landing by strong winds, Cubillo said.
Nature Air did not respond to phone and email messages.
The Public Safety Ministry posted photographs and video of the crash site showing the burning wreckage of the plane in Guanacaste, in northwest Costa Rica.
Costa Rican investigators said strong winds or mechanical problems most likely caused the crash.
"No possibility can be left out for certain," said Michael Soto, deputy director of Costa Rica's Judicial Investigation agency. "We have two aspects: The principle one would be some weather condition and if there was a mechanical issue."

Copyright AP - Associated Press