Two New York City children -- ages 12 and 7 -- who were reported missing after allegedly taking off in one of their parents' Range Rovers have been found near the New Jersey/Delaware border, the NYPD said Monday afternoon.
The kids are cousins, police said. Cops at the 106th Precinct received a call from one of their parents at around 10 a.m. saying they believed the two kids, a boy and a girl, had taken their vehicle from Queens and were driving toward Staten Island.
The circumstances of the jaunt, which took the children more than 100 miles from home, weren't immediately clear. Police said around 2:30 p.m. that the two children had been located when they tried to use a family credit card at a rest stop near the New Jersey/Delaware border and it got pinged.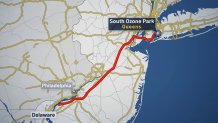 Police in Delaware stopped the children on the west side of a toll plaza on the Delaware side after they drove over a bridge and through the toll plaza.
The children were held by police until they were reunited with family members at home later Monday afternoon, police said.
The investigation is ongoing. There was no word of any charges.