Scaffolding was sprawled out across a Midtown block early Saturday morning after a driver lost control and crashed his vehicle, police said.
Officers responded to the scene of the crash around 4 a.m. on East 58th Street near 3rd Avenue. A Mercedes sedan was found mangled with a tree and pieces of scaffolding that had stood two stories tall.
The 24-year-old man was driving at a high rate of speed when he lost control and crashed in Midtown, according to police. The man was later arrested for driving with a suspended license, police said.
The cleanup was still underway several hours later as investigators continued their work and crews tried to clear the roadway.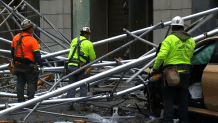 At one point in the investigation, firefighters used a tool to pry open the vehicle's trunk. Once open, officers pulled out and bagged several unrecognizable items, although a couple appeared to be high-end bags.
Many neighbors were awoken by the early morning commotion and sound of two stories of scaffolding collapsing to the ground.
"[I] heard like tires screeching, and then like giant crash like metal, just a bunch of metal," Christina Lee said.
The driver was taken to a nearby hospital for minor injuries. No other injuries were reported.
Copyright NBC New York