What to Know
Two masked suspects and a man forced three victims into a Staten Island home and forced them to the ground at gunpoint, the NYPD says
Two of the victims were pistol-whipped during the robbery in Shore Acres, suffering minor injuries but refused medical attention, police say
The three suspects got away with more than $1,000 in cash and several credit cards and fled the home in a dark-colored car, officials say
Three intruders, two of whom who were wearing masks, forced their way into a Staten Island home before ransacking the house and pistol-whipping the sleeping homeowner inside his own bedroom, police say.
The NYPD says in the early morning hours on Saturday, two men and a woman were sitting outside a home on St. John's Avenue in Shore Acres when the three armed robbers forced them inside at gunpoint and demanded them to get down on the ground.
The trio ordered money, while one of the suspects hit one of the victims in his head with a pistol, cops say.
The three intruders then made their way to a bedroom and found the homeowner sleeping and hit him over the head with a gun, police said. The trio rummaged through the home, taking more than $1,000 in cash, several credit cards and an iPhone. The phone was later found, according to the NYPD.
The suspects then ran out of the house and sped off in a dark-colored car. The two victims who were beat up suffered minor injuries and refused medical attention, according to authorities.
The two masked suspects were wearing dark clothes and gloves, while the third suspect, a man, was not wearing a mask, had a beard and a tattoo on his right forearm.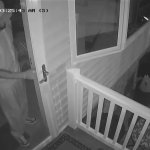 Surveillance footage from the scene shows the unmasked man walking out of the home wearing a hat and short-sleeve shirt.
Top Tri-State News Photos