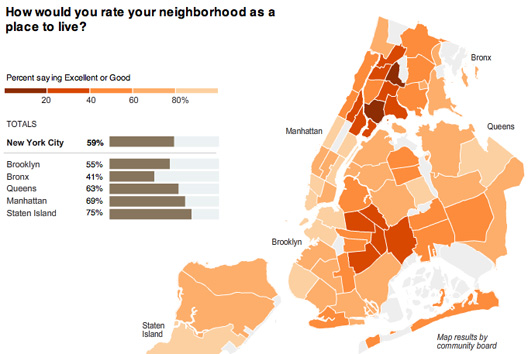 Over the weekend, the Times published the results of a city survey that polled some 25,000 households about life in their neighborhoods, asking people their satisfaction levels on topics such as noise levels, rat control, school safety, restaurant cleanliness and all sorts of quality of life topics.
The accompanying bit of multimedia, in which the results of each question are displayed by community board, are absolutely, positively transfixing. Here's a look at how people rated their neighborhoods as overall places to live.
The folks on Staten Island are the most pleased, while 92% of Upper East Siders and 86% of Brooklyn's sixth district (Cobble Hill, Carroll Gardens, Gowanus, Park Slope, Red Hook) said their 'hoods are excellent. Places that are less chipper: Harlem, Bed-Stuy, Bushwick and nearly all of the Bronx.

Copyright CURBD