People living, working and walking in busy Union Square were rattled by at least two manhole explosions so powerful they shattered nearby building windows and damaged a fire truck Friday morning.
Firefighters first became aware of a smoking manhole at around 5 a.m., and Con Edison was called to the scene, according to fire officials.
About three hours later, another manhole began smoking around the corner, in front of the Strand Bookstore at East 12th Street and Broadway, officials said. Firefighters returned and checked out the bookstore, and found high levels of carbon monoxide inside.
They were evacuating the store -- only one person was inside -- when the manhole blew, officials said.
Windows in nearby buildings rattled, and some broke. At one apartment buildings, windows on the higher floors were cracked.
"I thought I was on the other end of the world with two bombs," said Liza O'Keefe. "It was so scary."
"It was really loud," said neighbor Eric Gonzalez. "It shattered windows in my building and across the street."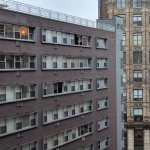 "It just made me wonder what had just blown up," said a neighbor named Mary, who lives on East 10th Street and University Place, adding that the burning smell permeated the streets.
Rima Abdelkader, who was on her way home from her overnight job as a reporter with NBC News, was on the Staten Island Express bus when she says all the passengers "heard this huge explosion."

"From what people heard, it sounded like a bomb. You felt it," Abdelkader said. "I was listening to music and I still heard it. My right ear is hurting."
One fire truck was damaged in the blast; a firefighter on the scene initially told Abdelkader the truck had been sitting on top of the exploding manhole, but it's not definitively clear how close the truck was to the manhole.
No one was seriously injured.
[NATL] Top News Photos: Pope Visits Japan, and More
A neighbor emailed News 4 to describe a "large orange fireball followed by a huge cloud at that corner."
"The fire truck actually moved and my window shook," said Mitchell Schneider. "A small white truck was driving on Broadway just as the explosion occurred and veered into a pole. The driver ran from the truck screaming. Others on the street also ran or hit the sidewalk."
Neighbor Joseph O'Hara, who lives in a building about 50 feet from the manhole, said he heard what "sounded like a bomb," and from his window could see a cloud of smoke coming toward his apartment.
"You could smell it. It's in all of our apartments," said O'Hara.
A fire official said the cause remains under investigation but is believed to be weather-related. Water and salt deteriorate cables underneath manholes and can spark fires.
Residents in the area say there has been ongoing nightly construction on roads in the area all week but it's not clear if that played any kind of role in the manhole fires.