A week before the important Jewish holiday of Passover, New Yorkers of various faiths gathered April 14 to celebrate it — in a mosque in midtown Manhattan
The Islamic Society of Mid Manhattan hosted a multifaith Passover celebration with Temple Emanu-El and the NYC Muslim-Jewish Solidarity Committee, blending the food and traditions of the age-old holiday with some modern twists.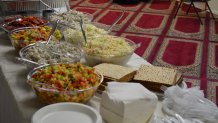 "I don't believe anything quite like this has happened in New York before," said Rabbi Allison Tick Brill, of Temple Emanu-El.
At Thursday's event, attended by about 100 people, the organizers hoped to bring together people from two faiths whose adherents are more often depicted in conflict than in solidarity.
[NATL] Top News Photos: Pope Visits Japan, and More
In the story told every year on Passover, Jews escape oppression in the land of Egypt. Rabbi Tick Brill said that was part of what made the Seder's setting special is that in the United States, Muslims can often be made to feel like outsiders.
"It is particularly powerful to celebrate Passover here at this mosque because unfortunately, Muslim Americans are made to feel strangers in their own country," Rabbi Tick Brill said.
Top Tri-State News Photos
Imam Ahmed Dewidar of the Islamic Society of Mid Manhattan praised the gathering as celebrating both Jews and Muslims.
"Isn't it beautiful to have our Jewish brothers and sisters in the mosque?" Imam Dewidar said. "I think we should be proud of our community here in New York."
Passover tables were set up on the floor, consisting of an abridged version of the traditional Seder plate, on which foods with symbolism important to the holiday are carefully arranged. The customized Haggadah, which contains the Passover text, kept many traditional aspects of the Seder along with modern additions, like a singing of Bob Marley's "One Love."
Michelle Koch, of the NYC Muslim-Jewish Solidarity Committee, helped organize the event, and saw the Seder as a platform to discuss overcoming differences.
"There's so much hatred and prejudice going on in the world, because people are afraid of each other and are ignorant of each other," Koch said. "So I think as a committee, you bring people together. You teach people about each other."
Nabil Ezzarhouni, also of the NYC Muslim-Jewish Solidarity Committee, said the Seder was successful in bringing people of differing faiths together.
"There was a happiness that could not be translated into words," Ezzarhouni said.
Ezzarhouni wants to use events like the Seder to send a message about multifaith inclusion.
"It's not just about Jews and Muslims, it's about the whole society," he said. "We want to set a standard, and we want to give an example to not just America, but to the whole world."