What to Know
The man who cops say followed a woman into her NYC apartment building last month and violently beat her up in a robbery has struck again
He first struck in November when he put a woman into a chokehold and threw her against a wall inside her own apartment building, police say
Then he struck again on Dec. 5 when he followed a 20-year-old woman home, placed a napkin over her mouth and told her not scream, cops say
The man who cops say followed a woman into her Upper West Side apartment building last month and violently beat her up in a robbery has struck again, police say.
On Dec. 5, the 40-something-year-old man followed a 20-year-old woman into her apartment near Columbia University and grabbed her from behind, according to the NYPD. He put a napkin over her month and told her not to scream, officials said.
The man and the woman both fell to the ground after she tried to break free, police said. She was eventually able to get him off of her and the suspect ran away.
It wasn't clear if she suffered any injuries.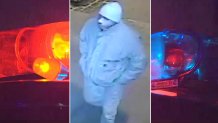 Last month, police said the same man followed a 60-year-old woman into her apartment building, put her into a choke hold and slammed her against a wall.
The man was startled away by a neighbor of the building who walked into the hallway as he was attacking the woman, authorities said. He fled the area with only her empty key chain wallet.
The woman was not seriously injured.
Investigators are urged to call Crime Stoppers with tips that could land the man behind bars.
Top Tri-State News Photos