A man who was walking home from dinner with his wife in Greenpoint was stabbed to death by a stranger, police said Saturday.
George Carroll, 42, was stabbed in the chest Friday night just half a block from his home, police said. He was brought to Woodhull Hospital where he was pronounced dead, the NYPD said.
Carroll was walking at about 9:30 p.m. with his wife on Monitor Street past a group of people that were hanging out around an SUV, his wife Christina Romero Carroll told NBC 4 New York.
One of them looked at her husband and spoke to him.
"It's basically 'what are you looking at?' That was that was it," Romero Carroll recalled. "And my husband, he's a Texan, he's like 'I'm...looking.'"

The man chased her husband, stabbed him, then took off in the SUV, Romero Carroll said.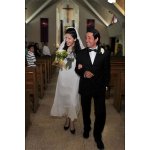 "This has to stop," neighbor Amanda Remus said. "This is his blood flowing down the street in this water. And they just cleaned it from all the way up there. It has to stop."

Carroll was a writer and actor who was originally from Texas, his wife said. He moved to New York in 2001 and they recently moved from East New York to Greenpoint because they thought it would be safer, she said.
Officers didn't yet have a description of the person.
Top Tri-State News Photos