A man walked into a Brooklyn building last week and walked out with a bike that he stole, police say.
The NYPD says the man got into the building, which is near the corner of St. Johns Place and Rogers Avenue in Crown Heights, through an unlocked door on the roof sometime between 8 a.m. Friday and 11 p.m. Saturday.
Once the man was inside, he made his way down to the basement where he stole a Dawes bicycle, according to police.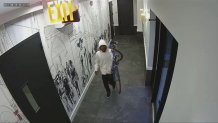 Cops Tuesday night released surveillance footage of the suspect seen inside the building with the bike. The surveillance footage shows the man walking down a hallway carrying the bike in one hand.
Witnesses are urged to call NYPD Crime Stoppers with tips that could help police nab the suspect.
Top Tri-State News Photos