Police have released more surveillance photos of the two suspects wanted in connection with the deadly shooting of a man pumping gas in Brooklyn.
The 46-year-old man, identified as Keith Vereen, of Queens, was shot to death in Crown Heights as he pumped gas around noon on June 17 at a BP station on Atlantic Avenue, police said.
He was shot once in the chest, officials said. He was taken to Kings County Hospital where he was pronounced dead.
Police are looking for two men who are about 19 or 20 years old in the shooting.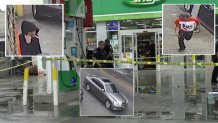 The suspected shooter was captured on surveillance video at the gas station, wearing a black hoodie with a cigarette dangling from his mouth, police said.
The second suspect was pictured running away from the gas station in a red shirt and black pants. Both men got into a silver Infiniti vehicle and fled.