What to Know
A 34-year-old woman was thrown to the ground and robbed by a beaded man wearing an all-black outfit and red shoes in Brooklyn last week
The woman suffered minor injuries in the caught-on-camera robbery that happened last Wednesday in Crown Heights
The suspect got away with the bag and the woman's cellphone and tablet and witnesses are urged to call Crime Stoppers with tips
A bearded man wearing all black and lurking in the dark tackled a woman to the ground and forcibly ripped her bag off her back in a terrifying caught-on-camera robbery in Brooklyn, police say.
The NYPD claims a 34-year-old woman was walking down the sidewalk near Bergen Street and Schenectady Avenue in Crown Heights last Wednesday just before midnight when a bearded man suddenly darted toward her.
The man wrapped his arms around her neck, put the woman into a choke hold and threw her to the ground, police said. The man with the beard then rips her backpack off of her and ran off, heading west on Bergen Street.
He got away with the bag and the woman's cellphone and tablet.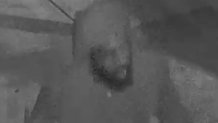 The woman suffered minor injuries, bruising and a cut to her face, and was taken care of at an area hospital. She is expected to be OK, officials said.
The NYPD released surveillance video (above) that shows the robbery unfold. It starts off with the woman casually strolling down the street, when the man's dark-looking outline comes into the shot. He can be seen sprinting toward the woman, throwing her into a parked car and taking her down to the ground before taking off.
The suspect was last seen wearing an all-dark outfit with red shoes. Witnesses are urged to call Crime Stoppers with tips.
How to Beat the Heat in New York City This Summer