A man in the Bronx pistol-whipped a victim behind a building and robbed him last month, police say.
It wasn't immediately clear why the 29-year-old man was targeted in the attack that the NYPD says happened in Mott Haven on Alexander Avenue in the early morning hours of July 22.
It was that morning when the victim was behind a public housing tower when the suspect came up to him and butted him in the face with a gun, police said. Officials say the unidentified man took the victim's wallet, house keys, cellphone and cash before fleeing the area.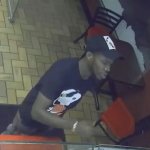 The victim suffered bruises to his face, but he refused medical treatment, according to police.
The suspect, who police described as being in his late 20s, was last seen wearing a shirt with Snoopy on the front.
The NYPD Wednesday night released surveillance footage of the man inside a restaurant in the hopes of catching him.
Top Tri-State News Photos