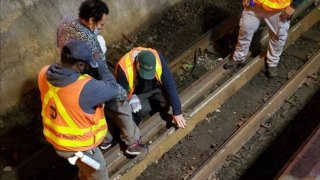 A crew of LIRR workers completed a harrowing rescue Wednesday when a man standing on a platform at the East New York station in Brooklyn suddenly fell onto the tracks and got wedged between the rails, unable to move, MTA officials said Thursday.
The track workers just happened to be in the area after a morning briefing when the man fell from the eastbound platform around 7:30 a.m. and raced to stop trains from coming through the area.
After hearing the loud sound from the man's fall, they raced over to calm him down as they made sure it was safe for them to go onto the tracks. That's when his shoe got stuck between the rails, causing him to lose his footing. They managed to extricate his trapped foot by loosening his shoelaces, avoiding contact between him and the electrified third rail.
It wasn't clear what prompted the man to fall, but he became disoriented after he did, officials said. He apparently managed to escape serious injury and refused medical attention at the scene. His name has not been released.
The five employees — Gregory Hartley, Kevin Rattigan, Larry Woods, Stacy Augustine and Shelwyn Hendy — were honored by Long Island Rail Road President Phil Eng on Thursday for their actions.
"Not exactly verbatim from a well-known superhero, but in this case, it fits: Faster than a speeding locomotive! We cannot thank them enough," said Eng.
Each of the employees has worked for the transit agency for more than a decade, and some have been with the LIRR for more than 20 years.
"We tried to keep the man calm and all of us as a team, we saved this man's life and he's able to go home to his family because of us," said Hendy.
"This couldn't have gone any better if we had practiced it," said Woods. "I did what I could to help, the man was very disoriented and I was nervous that he was going to touch that rail. I'm just glad we were all able to get out of there safely."