A man brutally beat and robbed a woman in Queens Tuesday morning, police say, and now authorities want to find him.
The man followed the woman into an apartment building near 31st Drive and 21st Street around 7:30 a.m. and walked onto the same elevator as her before both of them got off on the fifth floor, according to the NYPD.
Once they got off, the suspect put the woman into a chokehold and repeatedly punched her in the face, police said. He took the woman's credit card and then fled the area, cops say.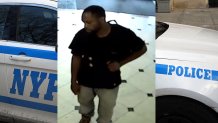 The woman was taken to an area hospital to be treated for several fractures, officials said.
Police Wednesday morning released surveillance footage of the 20-something-year-old suspect in the hopes of getting him off the streets. He is seen in the photo wearing brown boots and jeans.
Top Tri-State News Photos