A man was punched in the face, knocking him to the ground, before he was robbed on Staten Island, police said Saturday.
Police are asking for help finding the two attackers.
The men, both believed to be in their 20s, walked up to the victim at 4 a.m. on July 30 near Beekman Avenue and Riley Avenue and punched him in the face, the NYPD said.
The 24-year-old victim fell to the ground, then the attackers took his cell phone, wallet and watch, police said. They ran off.
The victim didn't require hospitalization.
Anyone with information is asked to call the NYPD's Crime Stoppers Hotline at 1-800-577-TIPS (8477).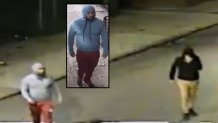 Top Tri-State News Photos