A man stole a woman's purse in Manhattan and jumped into a dark subway tunnel in a desperate attempt to flee the area, police say.
The NYPD says late last month, a man snatched a woman's purse off her arm at Grand Central and ran down the platform.
Good Samaritans quickly gave chase after the suspect, but lost sight of the man after he leaped onto the train tracks and ran down a dark subway tunnel, police said.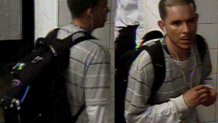 The man got away with the purse, which had the woman's cell phone, a credit card and cash inside.
Video from inside the station shows the dramatic jump the man made onto the tracks before he quickly disappears inside the tunnel.
Police Thursday night released surveillance images of the man who is seen wearing a striped shirt and carrying a backpack.
Top Tri-State News Photos