A man forced a woman to the ground while robbing a towing company in Brooklyn last week, police say.
The NYPD says the female worker at Mike's Heavy Duty Towing in East New York was not hurt by the man who walked into the store and simulated that he had gun last Friday just before 10 p.m.
Once the man had the worker on the ground, he demanded cash and payroll checks and the victim complied, police said.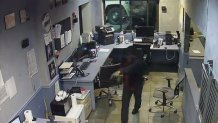 When the man had what he wanted, he ran out of the business and fled down Montauk Avenue heading north, according to officials.
The suspect got away with $1,200 in checks, but no cash was taken, authorities said.
Investigators released surveillance footage of the man that shows him aggressively approach the woman. The 40-something-year-old suspect is seen with his hood up, nearly covering his entire face.
Top Tri-State News Photos
Police urge witnesses to call them with tips that could lead to an arrest.