What to Know
Ana Ventura says she was coming home from church late Friday when the strange man, dressed all in black, attacked her
He followed her from the elevator and choked her feet from her 11th-floor apartment door, she says
Police released surveillance video of the suspect from the elevator and ask anyone with information about him to call authorities
A 74-year-old woman described in chilling detail how a stranger dressed in black followed her into a Bronx apartment building elevator, got off on her floor and sexually attacked her just 4 feet from her home.
"He had his arm around my neck and with his right hand he was touching my whole body, touching my whole body," Ana Ventura said in Spanish through a translator. "He was touching my bottom, and I was quiet, I was nervous."
Ventura, who uses a walker, says she was coming home from church late Friday and went to take the elevator to her apartment on the 11th floor. She says a bunch of people got off the elevator and she went to get on; there was only one person — a strange, tall man — inside.
They rode up to the 11th floor. Ventura got off the elevator. The man followed.
"I did not look at him. I side-eyed him because he was very tall," Ventura said.
[NATL] Top News Photos: Pope Visits Japan, and More
She says she asked the man if he was getting off on her floor and he didn't speak, but gestured with his right hand in the direction of the corridor, as if to say that is where she was going.
Ventura said she started walking down the hall and was almost to her door when the man touched her shoulder.
"I told him, 'Hey, what is wrong with you?'" Ventura says. "I still did not look at his face. I just said, 'What is wrong with you?' 'Why are you touching me?'"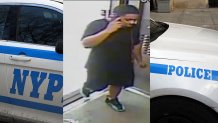 Ventura tried to keep walking. She didn't get more than two steps before he choked her and grabbed her, she says. She was able to bang on a neighbor's door for help, but the suspect fled, according to the NYPD.
Ventura was shaken up by the attack, but otherwise physically unharmed. She says she has had trouble sleeping and wants the man caught.
Police released surveillance video of the suspect from the elevator. Witnesses are urged to call the NYPD Crime Stoppers Hotline with tips that could lead to the man's arrest. There is also a poster on a light pole in the area asking the neighborhood for help in nabbing the suspect.
Top Tri-State News Photos