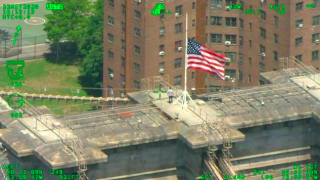 Traffic shut down for several hours Friday afternoon has resumed across the Brooklyn Bridge after a man was escorted safely from the top after an hours-long rescue.
The NYPD deployed several rescue teams around 12 p.m. after reports surfaced of a man on top of the bridge.
Both directions of traffic across the bridge were immediately closed and reopened nearly four hours later.
"A despondent male has scaled the Brooklyn Bridge and is threatening to jump," the NYPD tweeted just after 12:30 p.m.
The NYPD managed to safely take the man into custody by 3 p.m. The department said he would then be taken to a local hospital for evaluation.
The department tweeted aerial images of the man on top of the bridge. The NYPD says several of its specialized teams have responded to the scene.
If you or someone you know needs help, please call the National Suicide Prevention Lifeline at 1-800-273-TALK (8255).