Police are searching for a man they say broke into and stole from a new multi-million dollar Bronx tennis facility that serves local kids.
Surveillance video shows the man at first trying to open the front door of the Cary Leeds Center in Crotona Park East Wednesday night.
After finding the door locked, he shattered the glass by throwing what appears to be a rock at it, police said. The surveillance video shows at least three people watching him break in.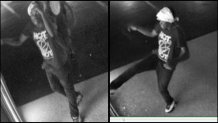 The man stole book bags from the tennis center, as well as an iPad, according to cops. The group fled afterward.
Police released the surveillance video Friday evening in hopes of finding the suspects, believed to be between 16-18 years old.
They are asking anyone with information to call the NYPD's Crime Stoppers Hotline at 800-577-TIPS.
The $26 million Cary Leeds Center for Tennis & Learning opened in Crotona in June 2015, aiming to serve kids in the south Bronx.