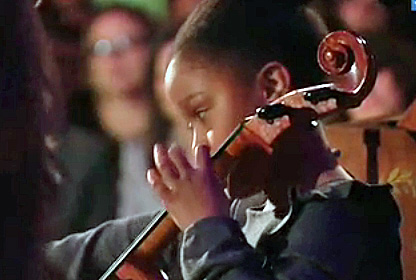 Most professional musicians dedicate at least a decade to their instruments before being invited to perform at high-profile venues in front of dignitaries. But at age 9, classical cellist Sujari Britt has already played for a packed house before President Obama and members of Congress, becoming one of the youngest musicians ever to perform at the White House.
Britt, who has been studying the cello at least three hours a day since the age of 5, wowed First Lady Michelle Obama in November 2009 at a White House-hosted workshop and recital for student musicians. The first lady summoned the youngster to perform for the president that evening, where Britt captivated the White House audience with her precision as she performed the first movement of Luigi Boccherini's Sonata for Two Cellos in C Major with 27-year-old Alisa Weilerstein.
Even before her White House performance, it was already abundantly clear that this cello prodigy would make an impact on the classical music world; in 2008, her performance of Bach's Cello Suite No. 1 in G Major won first place at the annual Associated Music Teachers League scholarship competition.
Britt attends the Manhattan School of Music where she was named the 2010 recipient of the Dianne Flagello Precollege Division Scholarship Endowment. She can also be found performing with her sister, Joelle and brother, Sunnaj in a classical string trio. With such a jump-start on performing, as well as overflowing with an abundance of talent, dedication, and poise, there's little doubt that a long career for Sujari Britt is on the way. For more on Sujari and other members of theGrio's 100, click here.