A man involved in a domestic violence incident was shot by police who found him in a narrow hallway holding onto the 911 caller's mother in a Queens apartment on Monday, authorities said at a press conference.
The suspect, identified by a senior police official as Eduardo Andrade, allegedly refused to leave the apartment of his child's mother despite her repeated requests to do so. It wasn't clear what time he arrived, but she called 911 around 10 a.m.
NYPD officials said the woman reported that Andrade had taken a lot of pills and spoke about wanting to die; she also said he was holding a large machete in his hand. Officers were told he still had the machete when they arrived at the scene on 33rd Street near Broadway in Astoria, officials said.
Officers trying to get the 911 caller out of the apartment safely found Andrade in the hallway holding the woman's mother, NYPD Chief of Department Kenneth Corey said Monday afternoon. It wasn't clear if he still had the machete in his hand at that point. Police only said it had been recovered at the scene.
Body camera footage will be reviewed as part of the investigation, authorities said.
One officer tried to use a stun gun on Andrade to get him to release the woman's mother but it appeared to have no effect, NYPD officials said. That's when an officer fired three shots, striking Andrade in the groin area. It wasn't clear if the same officer who initially tried to stun was also the one to later pull the gun.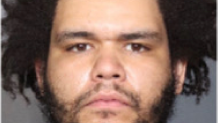 Andrade was taken to Elmhurst Hospital and was undergoing emergency surgery early Monday afternoon. Police say he is expected to survive.
According to investigators, there's a long history of domestic abuse tied to the relationship between the 911 caller and Andrade. That history includes multiple allegations of domestic assault, police said.
Police also said orders of protection have been in place, and Andrade is accused of breaking those.
No officers were hurt, police said. Chopper 4 showed a heavy law enforcement presence at the scene through the morning. Traffic was shut down in the area.
Brianna Cortez identified herself as the 911 caller, who phoned to get help when the father of her 3-year-old child, and who she is no longer romantically involved with, refused to leave.
"I called 911 because I wanted to tell him to leave. Just to leave," Cortez told News 4. "It was just a verbal dispute. I wanted him to go home."
Cortez disputes much of the police department's version of events outlined in the afternoon press conference. She claims officers did not use a taser to try and subdue Andrade, and said he didn't take pills. She also denies the department's statement that the couple has a long history of domestic violence.
The NYPD said Andrade has a prior arrest for assaulting a police officer, from last April, when he punched a cop while resisting arrest. Details on a possible attorney weren't known.
Copyright NBC New York