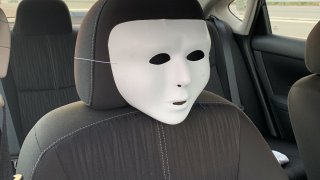 A man on Long Island got a clever idea to use a mask on his passenger seat in an attempt to cheat the HOV lane by himself, but things didn't go according to plan.
A Suffolk County Highway Patrol Officer Police thought there was something suspicious about the passenger of a 2017 Nissan sedan going eastbound near exit 52 on the Long Island Expressway on Wednesday evening.
The officer then immediately saw through the white, Jabbawawockeez-like mask after pulling over 20-year-old Justin Kunis.
Kunis was issued a summons for the HOV occupancy violation, according to the county police.
Copyright NBC New York