A Long Island teacher is in hot water over a Facebook post in which he said he failed students for refusing to stand for the pledge of allegiance more than a decade ago.
The teacher from Uniondale School District apparently wrote the post last month. In it, he said he told the students they were disrespecting members of the military by not standing.
"They refused to stand saying 'they didn't have to,'" the teacher wrote in the post. "I told them that is true and that what makes this country great is 'that I didn't have to pass them either.'"
His post continues: "Well I know God has a sense of humor because both of these un patriotic kids both ended up with a 63 avg, and under ordinary circumstances I would have passed them both, instead I failed them both."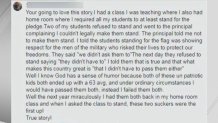 Even though the teacher's actions were more than a decade ago, the district got involved after the post began making the rounds.
In a statement to NBC 4 New York, Uniondale Schools Superintendent William Lloyd said, "The District has taken the proactive measure of assigning this faculty member to out-of-classroom duties until further investigation."
Adults with children at Uniondale schools were shocked by the post.
"As soon as I read it, my stomach flipped," grandmother Terena Williams said.
"If he came out publicly with this, he should also come out publicly with an apology."
Imani Alston, a student, said she thought the post was disrespectful.
"It's wrong for a student to go on Facebook and say anything about a teacher — we would automatically consequences or in trouble for it," Alston said.
Her father, Kenneth Alston, said he served in the military and that he disagrees with the teacher's actions.
"They have a choice to stand, sit, kneel, do whatever they want," Alston said. "This is a free country, you know, we reserve the right to protest."
The teacher's post alleges that the school's principal at the time told him he couldn't force students to stand for the pledge. The teacher also referred to the students as "suckers" a term that hit a nerve with some parents.
"I don't think that he really wanted to use 'sucker,'" Terena Williams said. "To me it meant something different, another word."
NBC 4 reached out to the teacher for comment, but hasn't heard back.
The controversy comes at a time increasing politicization of the national anthem.
Dozens of players from across the NFL have kneeled during the anthem this season to bring attention to the mistreatment of African Americans by police. President Trump cursed the players and encouraged a boycott of the league if officials didn't "fire or suspend" them for kneeling, setting off a wave of even more protests.
[NATL] Memorable Protests by Athletes Through the Years