Half a dozen people were hurt, some of them kids, in a seven-vehicle pileup on Long Island Thursday that authorities say appears to be a "freak accident."
Nassau County police say it appears a tractor-trailer clipped a school bus and lost control in North Bellmore, sideswiping a number of vehicles before flipping on its side in a parking lot near Jerusalem Avenue and Newbridge Road. Water bottles from the Walmart truck spilled all over the pavement, footage from the scene shows.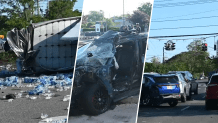 Cops say no kids were on the school bus at the time of the accident. The two injured children were in passenger vehicles. Four adults also were hurt. All the victims are expected to survive, police say.
"It sounded like a major earthquake," said Angela Scarpinito, whose bedroom faces the crash scene. She said her first reaction was to pray, "because I thought people were dead at that point. It was that loud."
Video from the scene showed nearly a half-dozen passenger vehicles stopped at odd angles in the intersection. The vehicles appeared to sustain varying amounts of damage, though none compared to a car wrapped around a pole.
The cleanup lasted well into early afternoon.
Police say their investigation is ongoing. No criminality is suspected at this time.
Copyright NBC New York