The producer of an HBO series and another man are facing federal narcotics charges in the drug overdose death of a Long Island dermatologist who was found unconscious in the vestibule of a Manhattan apartment complex last fall, according to a criminal complaint.
Marc Henry Johnson, who was a producer on an HBO series called "The Deuce," and James Holder were arrested at their homes in Manhattan Wednesday by a team of Drug Enforcement Administration, NYPD and New York State Police investigators, sources said.
Their arrests come eight months after the death of Dr. Kiersten Cerveny, a Manhasset dermatologist who was found in the vestibule of Holder's apartment building on West 16th Street in Chelsea on Oct. 4.
Sources have previously said Cerveny and Johnson were in a relationship at the time of her death.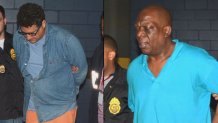 According to the complaint, Johnson, 51, met Cerveny and another individual at a bar on the Lower East Side after texting about meeting Holder, 60, for "a pickup." While at the bar, he allegedly told Cerveny, who had been using cocaine before he arrived, he had more of the drug and offered to share it with her and the other person.
Later that night, Cerveny and Johnson left the bar together in a taxi and went to Holder's apartment, according to the complaint. They went upstairs and weren't seen again for hours.
The complaint alleges that Holder and Johnson emerged four hours later and dragged the unconscious Cerveny along the hallway to the first-floor vestibule. Holder left afterward and Johnson called 911.
Johnson allegedly refused to give the dispatcher his identity and didn't say what had happened to the 38-year-old. He left after paramedics got to the scene, according to the complaint.
Emergency medical technicians attempted to resuscitate Cerveny as they loaded her into the ambulance and took her to the Lenox Health emergency room in Greenwich Village. She died at the hospital.
Medical examiners ruled her death resulted from acute cocaine and alcohol intoxication.
Top Tri-State News Photos
According to the complaint, Holder -- who went by the nickname "Pepsi" -- had allegedly sold drugs out of his apartment since about 2013. He generally sold "hundreds," bags of cocaine costing $100, the complaint says.
"We believe Mr. Holder has been selling drugs in this city for a long time," said NYPD Commissioner Bill Bratton.
According to multiple media reports, Johnson stepped away from "The Deuce" after Cerveny's death. The show's executive producer, "The Wire" creator David Simon, called the death a "greivous tragedy."
"As evidence has yet to be presented it would be irresponsible to say more at this point," he said.
Cerveny, originally from Washington Township in Gloucester County, New Jersey, had been an assistant professor of clinical dermatology at Weill Cornell Medical College, according to a Dec. 12, 2009 announcement of her marriage to Andrew Cerveny Jr., also a dermatologist, in The New York Times. She graduated magna cum laude from Duke University and earned her medical degree at Tulane University.
She met her husband in 2004 while both were residents at the Medical Center of Louisiana at New Orleans. They had three children together.
Information about whether the men had obtained attorneys who could comment on the charges wasn't immediately available.
[NATL] Top News Photos: Pope Visits Japan, and More