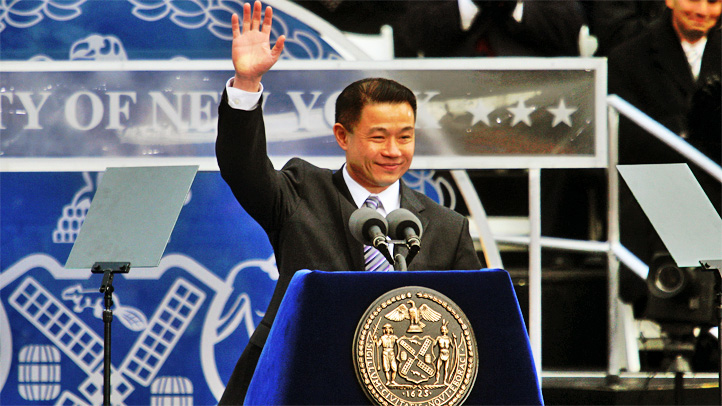 The campaign treasurer for New York City mayoral candidate John Liu is accused of using so-called "straw donors" to allegedly circumvent campaign finance limits and grab more matching funds from taxpayers, the U.S. attorney said Tuesday.
Jia Hou, also known as Jenny Hou, is expected in federal court in lower Manhattan to face fraud charges for the alleged scheme around the 2013 mayoral campaign of Liu, the city comptroller.
"Jia Hou, a campaign treasurer, was a central figure in a coordinated scheme to break the city's campaign finance laws, " U.S. Attorney Preet Bharara said in statement. "Hou concealed the use of straw donors, subverted the city's electoral system, and obstructed justice."
Hou, 25, of Queens is charged with one count of conspiracy to commit wire fraud, one count of attempting to commit wire fraud, and obstruction of justice. Each count carries a maximum penalty of 25 years.
In a statement, Liu said he was "stunned by this news."

"These accusations against her are uncharacteristic and unexpected," Liu said in a statement. "Jenny is a smart, hardworking person who I hope will be treated fairly."
Her lawyer, Martin Adelman, said his client is "an idealistic young woman and it is devastating that they are charging her with these charges, which we will answer."
Last year, a campaign finance bundler for Liu was arrested for allegedly using straw donors to funnel illegal contributions.
According to the DA, in August 2011 Oliver Pan accepted a $16,000 campaign contribution from an undercover FBI agent posing as a donor. Individual donations are limited to $4,950, so Pan arranged for 20 straw donors to make $800 donations in their names, and then paid them back with the original money, the DA said.
At the time of Pan's arrest, Liu said in a statement that he was "saddened" by the news.
"If it is true then the conduct was clearly wrong and my campaign was not told the truth," he said.
The New York Times reported last year that there were numerous inconsistencies in Liu's campaign finance reports, including questions about whether some donors even exist.
Liu has denied any wrongdoing and he is working with prominent defense lawyer Paul Shechtman. Shechtman has said Liu wants the truth about questionable campaign fundraising to come out.
The Times found about 24 "irregularities" in his campaign filing. Those included people who could not be found and people who said they never donated to Liu. Others said a boss or another Liu supporter donated in their name.