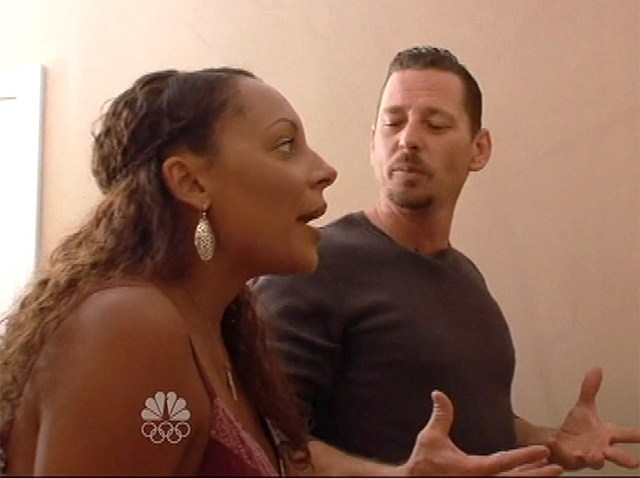 Almost a week later and the debate rages on. Where should Fonzie go?
Fonzie was a 14 year old Boston terrier, beloved by its owner Kevin Ridolfi, a plumber from Center Moriches. After Fonzie died last year, Kevin decided to have the dog stuffed.
One problem -- Kevin and his wife of eight years, Danielle, couldn't agree on what to do with Fonzie's remains.
Mr. Ridolfi wanted to put the dog in a shrine he built outside the couple's master bedroom. Mrs. Ridolfi had other ideas. She wanted the dog she always disliked relegated to the attic.
How do you resolve a feud like this? The couple took their dispute to NBC's new hit show "The Marriage Ref" last Sunday night.
The show's celebrity judges, Alec Baldwin, Kelly Ripa and show creator Jerry Seinfeld, sided with Danielle, a third-grade teacher.
So, too, did the majority of online bloggers and tweets after the show, said Danielle.
"This is on Twitter," Danielle pointed out, reading one tweet on her laptop computer:
"How creepy did the stuffed dog look? Yikes!"
Despite public opinion and the ruling of the judges, however, Kevin is a bit of a sore loser and is not ready to give in. So the debate drags on.
"I have to sell her on it," Kevin said, with his wife sitting next to him. "C'mon. Let's put the freakin' dog in the shrine already."
"Most people don't go around stuffing their pets," Danielle countered.
"I'm not like everyone else," her husband replied.
And on it goes.
Through it all, the Ridolfis say they have no regrets about taking their "debate" to national TV.
"It was a bit extreme," Danielle said. "But married couples can relate to it in their own way."
No argument there.