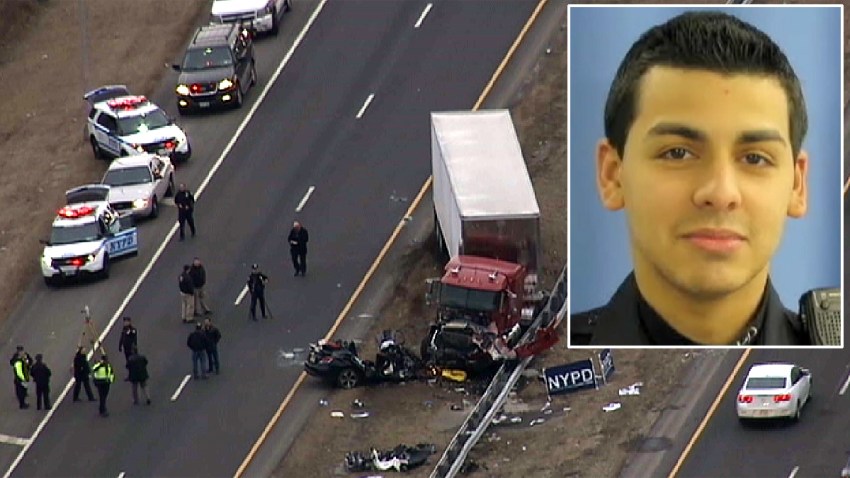 The New Jersey police officer who law enforcement sources say had a blood alcohol content three times the legal limit when he hit a tractor-trailer head-on on a Staten Island highway, killing a fellow officer and a friend and critically injuring a third cop, will face criminal charges, sources familiar with the matter say.
Criminal charges of vehicular manslaughter are expected to be filed soon against Pedro Abad, the off-duty Linden police officer behind the wheel when he allegedly slammed into a tractor-trailer while driving on the wrong side of the West Shore Expressway on Staten Island on March 20, the sources said.
Officials have said Abad, 27, had a blood alcohol level of .24, three times the legal limit.
The timing of when the charges will be filed remains unclear.
A spokesman for the Staten Island district attorney's office said its investigation is ongoing and had no further comment. A spokesman for the NYPD also declined to comment.
A grand jury on Staten Island has been hearing evidence in the matter in recent weeks.
Abad was driving his fellow officers and friend on the wrong side of the expressway on the way back from a strip club when his vehicle slammed into the tractor-trailer, authorities said. Hours before the crash, Abad had posted a photo on his Instagram page of three shot glasses filled with what he identified as "Jack Daniels Fire on the house."
Authorities said at the time it was "too premature" to speculate on what caused the accident. They later obtained a warrant to test Abad's blood.
Abad was hospitalized in critical condition following the crash, which killed fellow Linden officer Frank Viggiano and friend Joseph Rodriguez. Patrik Kudlac, another Linden cop riding in Abad's Honda, was also hospitalized in critical condition after the crash. Kudlac's mother told NBC 4 New York a month after the crash he was doing better.
Abad was also badly injured in the crash and has himself been facing months of rehabilitation.
The Union County prosecutor's office had said it would hand off the probe into the driving record and employment history of Abad to avoid the perception of any conflicts of interest. The state attorney general's office said the investigation will be handled by the Middlesex County prosecutor's office.
Public records show Abad has been involved in eight accidents since 2005 and has two arrests for drunken driving in the last four years.