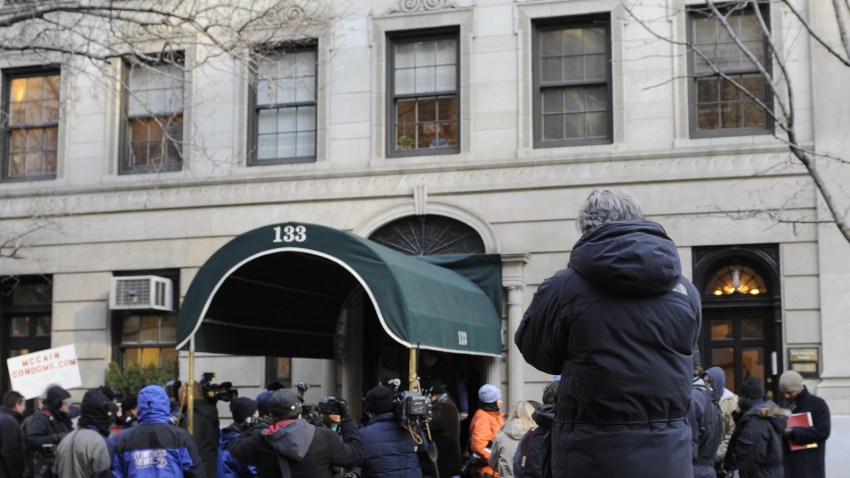 The Upper East Side may have gained a famous new resident in Madonna, but it's also losing one of its most infamous—Ponzi schemer Bernie Madoff, who just got handed a century-and-a-half of prison time.

Despite previous reports that the Madoffs' penthouse at 133 East 64th Street is on the market, for a while it looked like Ruth Madoff would be hanging around. That's no longer the case, as news broke over the weekend that the apartment would be among the homes given up by the couple, with sale proceeds going to pay back the fraudster's victims. (Today the Post reported on Ruth Madoff's rental troubles.)

We can't recall any other recent U.S. Marshals-led sales of tony pre-war Upper East Side real estate, so this might be uncharted territory. The penthouse has often been said to be worth between $7 million and $8 million, but will it sell for that much? One resident of the building sure hopes not.
While we don't know much about the state of the Madoff penthouse, we learned a bit about the building back when Bernie resigned as co-op board president and apologized to neighbors for all the fuss. Built in the '20s, 133 East 64th Street has two apartments on each of its 11 floors, so the Madoffs share a level. If the floorplan above is still accurate, it looks like the penthouse has four bedrooms, three maids' rooms and a library off its massive living room. Minus: Closer to Lexington Avenue than Park Avenue (the building's other address is 844 Lexington Avenue—eww!). Plus: The Madoff connection may actually be a perverse selling point. That's quite the ice-breaker to have up your sleeve.
The last three sales in the building took place in 2004 and 2005, according to StreetEasy, and were between $5.5 million and about $5.9 million (Matt Lauer paid $5.882 for a sixth-floor spread). With that info, it would seem the penthouse is a lock for at least $7 million to $8 million, but who knows how rushed the sales effort will be in order to close this chapter. There is currently one active listing in the building, which stands to be seriously impacted by any Madoff firesale. Unit #8A, a 3,500-square-foot apartment, was put on the market in May for a whopping $9.2 million. That price has already been chopped down to $7.95 million, but if Casa de Madoff goes lower, expect the axe to fall once again.

Copyright CURBD