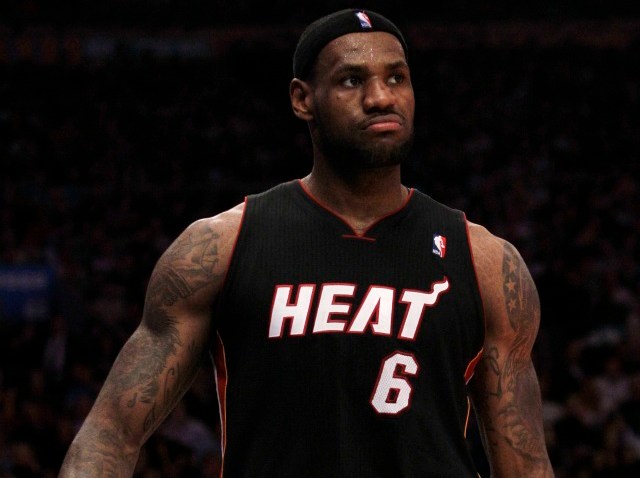 The boos didn't hold sway in King James' court.
LeBron James delivered another vintage performance at Madison Square Garden, scoring 32 points and finishing with his 30th career triple-double to help the Miami Heat beat the New York Knicks 113-91 on Friday night for their 11th straight victory.
James had 11 rebounds and 10 assists, silencing the first sustained boos he's ever heard in New York. Hoping he would sign with the Knicks as a free agent, fans usually showered him with raucous cheers, and he always responded by saying how much he loved playing here.
And he showed again just how much.
James' first trip to New York since snubbing to Knicks in free agency to join Dwyane Wade and Chris Bosh in Miami sounded different, but otherwise looked the same. The league's MVP toyed with a Knicks team hoping to prove it belonged with the big boys but instead was overwhelmed by his brilliance.
Wade and Bosh each scored 26 points, extending Miami's longest winning streak since winning 12 in a row from Feb. 26-March 19, 2005. The Heat beat the Knicks for the sixth straight time.
New York's Amare Stoudemire was limited to 24 points on 11-of-28 shooting, snapping his franchise-record straight of nine straight 30-point games. He grabbed 14 rebounds, and Danilo Gallinari scored 25 points, but the Knicks lost their second straight after an eight-game winning streak.
Shaking off some brief pain after his foot got stuck under the New York bench — the second Miami athlete to get tripped up along a New York sideline this week — James led a 27-7 run in the third quarter that turned a small Knicks lead into an 18-point Miami advantage.
Once a bitter rivalry fueled by postseason punches, it was reborn this season in the transaction page. Miami wrecked New York's hopes of rebuilding through free agency by signing James, Wade and Bosh, widely regarded as the three best players available. The Knicks did land Stoudemire, and he's been superb, but the Heat defended him well and got more than enough offense from the Big Three.
The Knicks rang up 116 points in a two-point loss to Boston on Wednesday night, but Miami shut them down in the second half and many fans had already departed by the time Miami's trio of stars called it a night.
Boos started during the national anthem for James, the player who once drew louder ovations than anyone on the home team. New Yorkers wanted him, but the spin here now is that James just wasn't up for accepting the challenge of trying to rebuild the Knicks that Stoudemire took.
The New York Post's backpage had a picture of James' head on a chicken, and the Knicks seem to go with a similar theme, "We embrace the opportunity" overhead board before introduction of their lineup.
James denied the lights of New York were too bright for him.
"It's not a spotlight that I can't handle," he said before the game. "It's not a situation that I can't handle."
Nor could the Knicks handle him.
The Knicks led by two early in the third quarter before James nailed a 3-pointer that gave Miami the lead for good and kicked off his 14-point period. He scored the Heat's final eight points, slapping five with a fan after hitting another long jumper.
Wade said earlier Friday he didn't think the Knicks really wanted him, and team management talked to Bosh but is convinced it got the best power forward available when it signed Stoudemire. So do Knicks fans, who chanted "Overrated!" as Bosh shot free throws midway through the first half.
But Bosh outplayed Stoudemire Friday, and with their superstar struggling the Knicks shot just 39 percent from the field.
Wade, Bosh and James were introduced in order during pregame introductions, the jeers growing louder with each. James continued to hear boos each time he touched the ball early on, but he largely quieted the crowd by scoring 14 points in the first quarter, when the Heat shot 65 percent and built a 34-25 lead.
He even drew some oohs and aahs with a nifty behind the back pass to Erick Dampier for a dunk that gave Miami a 13-point lead, and the Heat poised to blow it open with Stoudemire on the bench. But with Gallinari carrying them along with some smart plays by rookie Landry Fields — such a fan favorite that Spike Lee wears his No. 6 jersey he hoped would belong to James — New York surged back to tie it at 57 at halftime.
NOTES: Stoudemire was trying for the NBA's first 10-game streak of 30-point games since James from March 22-April 10 2006. ... Heat forward Mike Miller is close to returning from a season-long absence with a broken right thumb and coach Erik Spoelstra said he considered suiting him up Friday, but wants him to get some practice time first. ... New York's last victory over Miami was in coach Mike D'Antoni's Knicks debut in the 2008-09 season opener. ... The game was the first to be televised on ESPN 3D.

Copyright AP - Associated Press