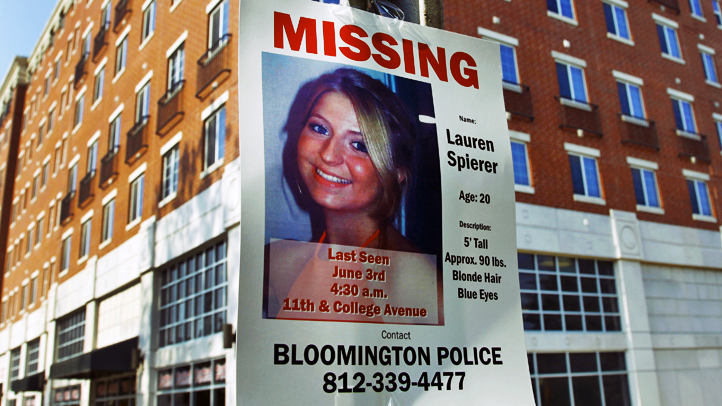 A federal judge has dismissed a lawsuit the parents of a missing Indiana University student from New York filed against two men who were with her the night she was last seen more than three years ago.
The lawyer for Lauren Spierer's parents said Wednesday that the ruling would be appealed as they try to find out what happened to her when she disappeared in June 2011 after a night of partying with friends near the university's Bloomington campus.
Judge Tanya Walton Pratt wrote in her ruling issued Tuesday that the Spierers had failed to present evidence showing the men had anything to do with her disappearance.
The lawsuit filed last year by Robert and Charlene Spierer maintained that Jason Rosenbaum and Corey Rossman gave their 20-year-old daughter alcohol and didn't make sure she returned safely to her apartment, leading to her presumed death.
Attorneys for Rosenbaum and Rossman have argued there's no proof that Lauren Spierer isn't still alive, and Pratt wrote that it is only a theory that her intoxication led to her falling victim to a criminal act such as homicide or abduction.
"Unfortunately, there could be any number of theories as to what happened to Lauren and what, if any, injuries she may have sustained," Pratt wrote. "Without evidence to prove these theories, it would be impossible for a jury to determine if whatever happened to Lauren was a natural and probable consequence of her intoxication."
No criminal charges have been filed in Spierer's disappearance in the early morning hours of June 3, 2011. And there's been no sign of the Greenburgh, New York, native despite numerous searches around Bloomington and the surrounding wooded countryside that's dotted with lakes and old limestone quarries filled with water about 40 miles south of Indianapolis.
Family attorney Jason Barclay said the Spierers intend to continue pursuing the lawsuit.
"I am heartbroken that the defendants and their team of defense lawyers will not allow the Spierers to get a simple question answered: what happened to their daughter that night?" Barclay said in a statement Wednesday. "We will appeal and continue our pursuit of answers to that important question."
The Associated Press left messages seeking comment from attorneys Carl Salzmann, who represents Rossman, and John Trimble, who represents Rosenbaum.
The men's attorneys have argued Rossman and Rosenbaum weren't responsible for the safety of an adult and that the Spierers were on a "fishing expedition" by seeking their private cellphone and academic records.
The Spierers have long maintained Rosenbaum and Rossman haven't fully cooperated with investigators and hoped the lawsuit would force them to answer questions under oath. The lawsuit initially included a third man, but the judge dismissed him from the suit in December.
Copyright AP - Associated Press